SAC Graduation: Regalia
Caps and Gowns
We will order your cap and gown using the height and weight that you provide on your Application to Graduate. You may keep these after the ceremony. In order to minimize graduation costs for you, we order a nice quality, but not the finest available.
Hoods
Hoods are very expensive, so to keep your graduation fee as low as possible, the seminary maintains an inventory of hoods for the various degrees. We will loan you a hood, which must be returned immediately after the ceremony. If you wish to purchase a hood, please let us know by May 1 to make the order. Hoods range between $100-150.
Purchasing Regalia
You may choose to purchase your own fine quality cap and gown for the commencement ceremony instead of using one purchased for you by Western Seminary. You may also purchase your own hood instead of borrowing one from the seminary. Check out the Jostens website to view your options. If you do decide to purchase some or all of your regalia, please contact This email address is being protected from spambots. You need JavaScript enabled to view it. for assistance. It will take at least two months for Jostens to make and ship your regalia, so if you would like to wear your own regalia in the commencement ceremony, it is recommended that you place your order no later than May 1.


Your hood will be black with gold and blue satin lining (Western's "official" school colors),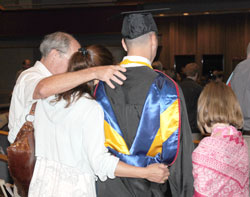 with either:
Red velvet band for theological degrees
White velvet band for MA in Marital and Family Therapy
Distribution and Care
You may either pick up your cap, gown, hood, etc. in the office, or we will give it to you at the graduation banquet. Please iron your gown and bring everything with you to the rehearsal. You will have photos taken right after the rehearsal, so please have it with you at the start of rehearsal.
Gown Donation
Your cap and gown will be yours to keep. However, if you do not have any use for your regalia after commencement, please feel free to donate it to Western Seminary. We maintain a supply of extras for faculty, and guests of the seminary, and for special needs of students. We will gratefully collect donated regalia immediately after the commencement ceremony when you turn in your hood.