Presidential Transition
Dr. Chuck Conniry Selected as Next President of Western Seminary
Dec. 30, 2020
On behalf of the presidential search committee and the entire board of trustees, we are pleased to announce that Dr. Chuck Conniry has been unanimously selected as the next president of Western Seminary. Dr. Conniry was selected from among many highly qualified candidates and possesses the skills and experience to guide Western Seminary in our next season as a catalyst and resource for spiritual transformation.
Throughout the 11-month international search process, the committee's priority was to find a qualified individual who demonstrated a humble dependency on our Lord and Savior Jesus Christ, is committed to protecting the doctrinal fidelity of Western Seminary and to Gospel-centered transformation.
Western Seminary has been faithfully led by current president Dr. Randy Roberts, for the past 12 years. Randy has over 40 years with Western Seminary. The board of trustees is very thankful for Randy's many years of dedicated service and leadership.
Chuck's appointment as president will take effect on Feb. 1, 2021. He will work directly with Randy and the Executive Leadership Team over the next several weeks to affect a smooth transition of Randy's responsibilities. The responsibilities of Provost and Vice President of Academic Affairs currently held by Chuck will likewise be transitioned over that same timeframe.
Chuck Conniry will become the 13th president of our institution since its founding in 1927, almost 100 years ago. At that time our founding board of trustees established that our purpose was to produce "....men and women schooled to preach and teach the eternal truths of God's Word and redemptive love and blood of our Lord Jesus Christ." We pray that Chuck and his staff will continue the strong legacy of Western Seminary that has been preserved by Randy and his predecessors.
Please join us in welcoming Chuck Conniry as he assumes his new position and thanking Randy Roberts for his outstanding leadership.
Mark Moosa,
Search Committee Chair
Western Seminary Launches Opportunity Profile for Candidates for Next President
June 24, 2020
In conjunction with our executive search consulting firm, The Dingman Company, the Western Seminary Search Committee has launched an Opportunity Profile, summarizing the role and responsibility of the position of president as well as the desired skills, qualities, and requirements for the position. Also included in the opportunity profile is a summary of the search and selection process.
Western Seminary is seeking a president who:
Demonstrates a strong, personal, and growing relationship with Jesus Christ.
Is a person of unquestioned integrity possessing a high view of the authority and
trustworthiness of Scripture.
Articulates a clear sense of divine calling to Western Seminary's mission.
Is in full agreement with the institution's theological convictions championing these in
both precept and example.
Possesses an earned and preferably terminal degree from a recognized institution in a
discipline relevant to the Seminary's academic mission.
A copy of the Opportunity Profile is available here and can also be found on the Dingman
Company website at www.dingman.com.
Referrals and inquiries for this position are now being accepted through August 31, 2020.
For additional information please contact Bruce Dingman at This email address is being protected from spambots. You need JavaScript enabled to view it. or Dave Gyertson at This email address is being protected from spambots. You need JavaScript enabled to view it..
On behalf of the board of trustees and the entire Western Seminary community, the Presidential Search Committee humbly asks for your continued prayers as we seek the Lord's will during the search and selection process.
Mark Moosa,
Search Committee Chair
Western Seminary Begins Search for New President and Selects The Dingman Company to Assist with Search
May 1, 2020
As previously reported by Western Seminary board chair, Dr. Scott Reavely, our current president, Dr. Randy Roberts, announced that he will retire on Dec. 31, 2020. The board of trustees has formed a presidential search committee comprising Dr. Reavely, three current board members and one former board member. The search committee, with the approval of the board of trustees, has selected The Dingman Company, one of the nation's leading professional recruiting firms, to assist in the search for our next president.
The presidential search process will be led by Mr. Bruce Dingman and Dr. David Gyertson. Mr. Dingman is a proven leader in executive recruitment and has conducted 18 presidential searches for evangelical seminaries, colleges and universities. Dr. Gyertson has served as president of Asbury University and Taylor University and is member of the board of trustees of Biola University. Mr. Dingman and Dr. Gyertson have teamed together on numerous presidential searches, most recently at Dallas Theological Seminary, Moody Bible Institute, ECFA and the Association for Biblical Higher Education.
Mr. Dingman and Dr. Gyertson have met recently with the presidential search committee and will be engaging in discussions with other internal stakeholders (alumni, faculty, staff and students) to gather pertinent information regarding the search. We expect interviews of candidates to begin in September and be narrowed to a few finalists by mid-November. Notwithstanding the limitations that we may encounter as a result of the COVID-19 pandemic, the goal is to be able to present a final candidate for vote to the board of trustees at the January 2021 board meeting.
In the coming weeks an opportunity profile for prospective candidates will be available on our website as part of the presidential transition page. If you would like to recommend a candidate for consideration as our next president, please email Mr. Dingman at This email address is being protected from spambots. You need JavaScript enabled to view it., Dr. Dave Gyertson at This email address is being protected from spambots. You need JavaScript enabled to view it., or myself at This email address is being protected from spambots. You need JavaScript enabled to view it..
We humbly ask for your prayers for the board of trustees, the presidential search committee and The Dingman Company, that the Lord will provide us with the wisdom and discernment to carry out His will in the selection of the next president of Western Seminary.
Mark Moosa,
Search Committee Chair
A Message from Dr. Scott Reavely, Board Chair
February 11, 2020
For the past 12 years, Western Seminary has enjoyed the steady gospel-centered leadership of Dr. Randy Roberts. He recently informed the Board of Trustees that his time as President of Western Seminary will conclude at the end of 2020. The Board of Trustees is extremely grateful for his competent and distinguished service as Western's president.
Randy asked that the following personal message to you be included in this formal announcement:
Dear friends of Western Seminary:

At its recent meeting, I notified our trustees of my desire to end my service as president of Western Seminary at the close of this calendar year.

The reasons for this decision are manifold: put most simply, the combination of health factors, the progressive wear-and-tear that often accompanies well over three decades of service in senior administrative roles, and a general sense that this might be a good season for Western to have the benefit of a new leader's gifts, fresh vision and energy, etc.

These kinds of transitions typically take at least a year from search to installation, which explains the aforementioned timetable—and I am happy to stay in place until this process fully plays out. That means staying fully engaged with my normal presidential duties throughout the year, while also seeking to finish well and prepare wisely for a smooth leadership transition.

By God's grace, we are in a good place as a Seminary, which also makes this an opportune time for such a change.

I know you will join me in praying that the board will identify the right individual who can build upon our recent progress and enhance even further Western's impact and sustainability in the days to come. As a valued member of the Western Seminary community, I wanted to let you know about my decision early in the process along with the rationale behind it.

Thanks for your support of Western Seminary!

Randy Roberts, DMin
President
As Randy mentioned, he has served Western Seminary for almost 40 years in various capacities. He is one of the longest-serving presidents of an evangelical seminary in North America; he's already served twice the national average.
In addition to closing his presidency well and creating a smooth transition for his successor, Randy has indicated his openness to maintaining an ongoing relationship with Western, possibly by teaching or working on projects.
Western Seminary has nearly a hundred years of gospel fidelity. We are anticipating the highest number of credit hours in school history this fall. We are coming off a series of solid financial years. The future is, indeed, bright.
The Board of Trustees is in the process of assembling a Search Committee and will be receiving applications soon. Check back on this page for further updates in the future.
We look back with gratitude and forward with anticipation to what God has in store for Western Seminary. Please join us as we pray for a strong and healthy transition for Randy and his wife, Susan, and for the board as we search for the next president of Western.
Humbly,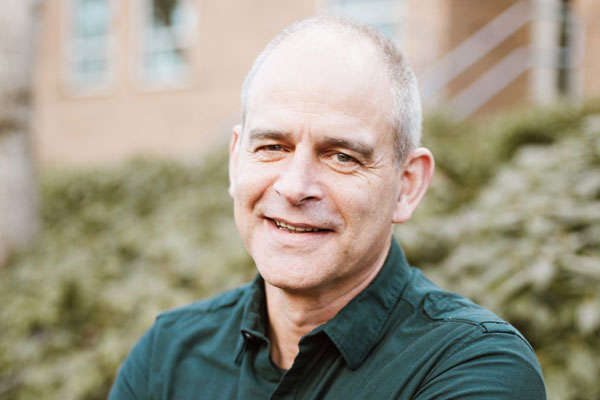 Dr. Scott Reavely
Board Chair, Western Seminary