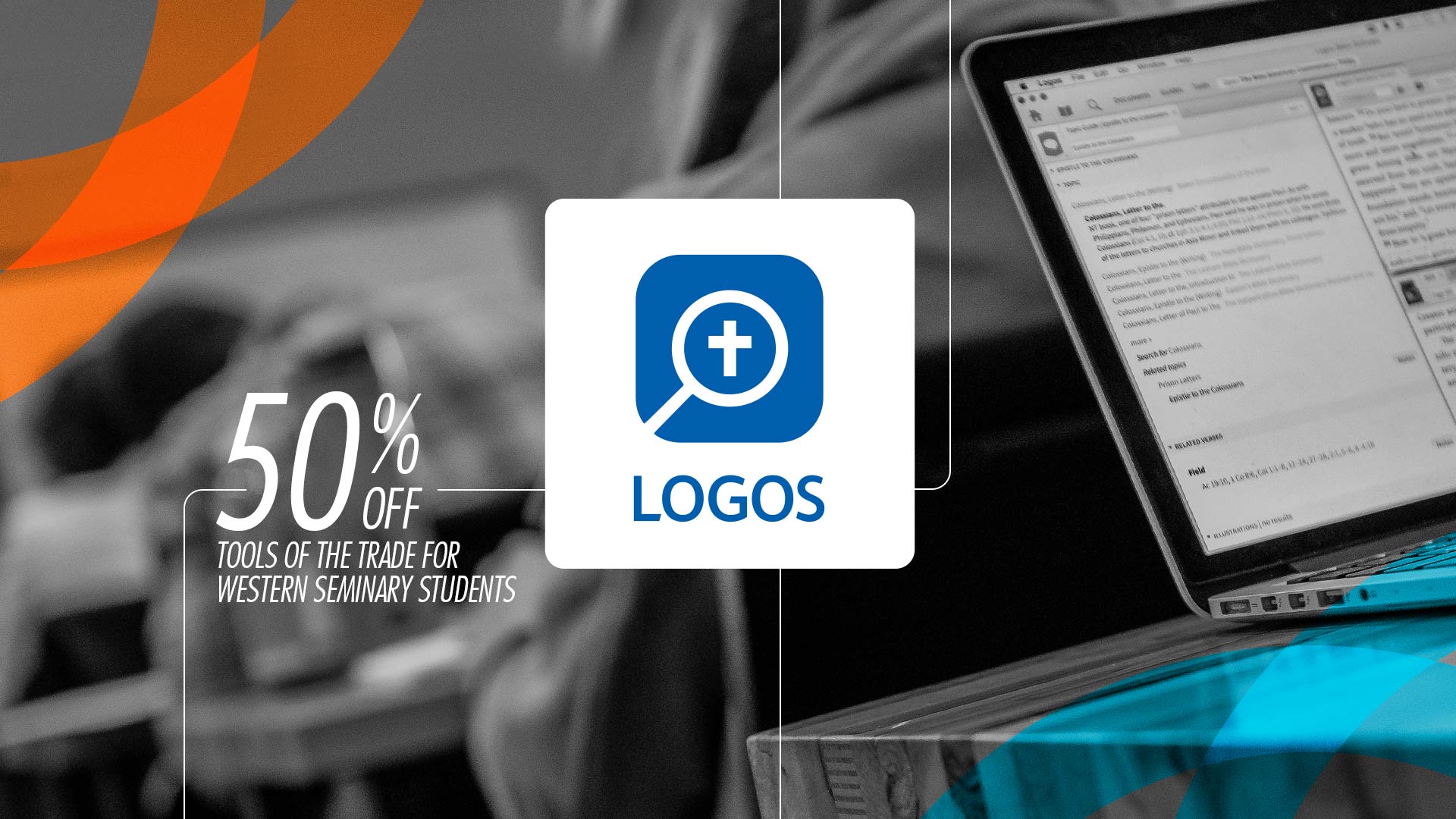 Lifelong Learning. Lifelong Impact.
When serving is your way of life, you need time-saving, available-anywhere tools to enrich your ministry. Logos Bible Software provides just the resources you need by coupling powerful study tools with a tremendous theological library. Western Seminary knows that understanding the Scriptures is the key to proclaiming and living the gospel, so we've partnered with Faithlife: the makers of Logos. In fact, we're one of just a handful of seminaries that have done so. That relationship gets you your Logos base package at 50% off, along with a special bundle of helpful features—Logos Now and Mobile Ed.—also at a discounted price.
LOGOS GOLD

Signature Logos Bible study tools and a wealth of theological commentaries, translations, atlases, and lexicons. Includes Logos Now and Mobile Ed. video library. Hand-picked for students in ministry or theology programs.

$1200

LOGOS BRONZE

Signature Logos Bible study tools and a right-sized collection of commentaries, along with Logos Now and Mobile Ed. video library. Perfect for students in our counseling or marital and family therapy programs.

$700

Access Logos on your PC, MAC, or mobile device
| | | |
| --- | --- | --- |
| View hundreds of Bibles, commentaries, lexicons directly on your device | Greek and Hebrew language studies for both novices and power users | One-click searches on topics, verses, people, or word studies that span your entire library |
| | |
| --- | --- |
| Create beautiful sermon and teaching presentations using Logos-curated media | Thousands of illustrations, timelines, maps, and photographic resources |
---
"Access to a large library, no matter where I go, enables on the spot research in the most remote parts of the world."
Dr. Gerry Breshears
Professor of Systematic Theology, Western Seminary
WHAT MAKES LOGOS GREAT FOR STUDENTS?
| | | | |
| --- | --- | --- | --- |
| A hard to beat price, just for Western Seminary students (see FAQs for details) | Some required class texts are bundled in, saving you even more | Text pasted into research papers is automatically cited | Use Logos during seminary—and the rest of your life |
WESTERN SEMINARY BUNDLE EXCLUSIVE:

Logos Now means you've always got the latest software features and resources installed

WESTERN SEMINARY BUNDLE EXCLUSIVE:

All-access to curated theological education videos via an evergreen Mobile Ed Subscription
---
"Logos is one of my favorite tools for writing. I can find exactly what I need, and often I discover something better than what I was looking for."
Dr. Randy Alcorn
Author and Director, Eternal Perspective Ministries
Who qualifies to receive Logos?
Beginning with the Fall 2016 semester, new and returning students who have been admitted to a master's-level or doctoral-level degree program and are enrolled in courses for credit will receive access to their Logos package.
Students enrolled non-degree or non-credit programs (audit, enrichment, Certificate in Transformation Coaching, or Center for Leadership Development) do not qualify to receive Logos.
Do alumni receive Logos too?
Not just yet. We're in dialog with Logos about offering the Logos discount to our network of graduates as well.
Do I have to pay anything to utilize Logos?
Yes. You pay only 50% of the market price for your Logos package, and all charges and payments will appear on your student ledger in our Student Information System (S.I.S.).
You've got two options to pay for your software:
1. Make a single payment, get an extra discount. If you prefer to pay the entire price of your Logos package up front, you will receive an additional 5% discount off the already discounted price. The software instantly becomes yours forever.
2. Spread out your payments over several terms. You will be given the option within S.I.S. at the time you sign up for Logos to spread your payments over the next several terms. Payment options will be presented to you based on the package for which you are eligible. You will also be able to add the Logos payment(s) to a TuitionPay plan if you would prefer that option (more info will be available in SIS). If you cease to be a student and wish to own a Logos license but have not paid the full amount of the package, within the next academic term you will have opportunity to pay any unpaid amount to retain the license (however Mobile Ed and Logos Now access will cease upon withdrawal or graduation).
When can I sign up for my copy?
Qualified students will be able to sign up for Logos via S.I.S. when registering for the coming semester (beginning with Fall 2016 registration). Simply "opt-in" to Logos ownership to receive access to your software. You'll have a trial period during the first month of the term to install and learn your way around Logos. During that time, if you decide you don't want or need Logos, you can choose to "opt-out" of owning Logos and receive a full refund.
I already own Logos. Can I get a discount on an upgrade?
Sure. Current Logos owners can upgrade their Logos Core engine or their Logos package at a reduced price by contacting Logos directly (the process differs based on which package you own). Extra features like Logos Now and Mobile Ed will be available to students who upgrade for a one-time fee of $300. Typically, Logos Now costs $90/year, and Mobile Ed courses costs several hundred dollars apiece. These are still some great savings!
Stay tuned to this page for more details as we work out the details.
Do I keep Logos after I graduate?
You bet. Once you've paid off your discounted copy of Logos, you own it for life. However, the Logos Now add-on and Mobile Ed. subscriptions expire upon graduation. You may continue to pay Logos directly if you choose to continue accessing those features of the software.
Do I have to accept ownership of Logos?
No. When you register for your classes, you also have the option to opt-out of owning Logos. By opting out, you will not be offered access to Logos and you will not be assessed any charges.
Do I have to utilize Logos to complete my coursework?
No. Our faculty recommends Logos as a means of easing and enhancing your seminary studies, though you are not required to accept ownership of it. Your coursework and learning can still be completed by other means.
How do I set up Logos on my device?
After enrolling at Western, you gain access to a Logos.com user account where you may download your Logos Core engine, mobile apps, and your particular package (Gold or Bronze).
Students who seek training for their software may utilize a wealth of device-specific Logos tutorials.
How does the pricing discount add up?
Great question. The discounted price you pay for your Logos bundle package covers a variety of expenses, all rolled into one price. Some of the included components would ordinarily carry a renewal price each year, but if you're a Western student, you pay only one time to access those features for as long as you're a student. In other words, this discount gets better with time and will actually exceed 50% by year two for continuing students.
If you'd like to know exactly what you're paying for, check out these tables:
| | | |
| --- | --- | --- |
| Logos Bronze Bundle | Normal Price | Western Price |
| Logos Bronze Base Package | $630 | $315 |
| Logos Mobile Ed | $499/year | $300 one-time charge |
| Logos Now | $89.99/year | Free |
| TOTAL: | ~$1219 | $700 (less 5% if paid in one installment) |
Western price includes a $85 one-time administrative fee.
| | | |
| --- | --- | --- |
| Logos Gold Bundle | Normal Price | Western Price |
| Logos Gold Base Package | $1550 | $775 |
| Logos Mobile Ed | $499/year | $300 one-time charge |
| Logos Now | $89.99/year | Free |
| TOTAL: | ~$2140 | $1200 (less 5% if paid in one installment) |
Western price includes a $125 one-time administrative fee.
A life dedicated to gospel-centered ministry promises plenty of challenge, and Western Seminary delivers the training and tools to thrive along the way. Offering Logos to our students at a minimal cost is just one more commitment to ensuring our students serve with excellence for a lifetime.
Fill out the form below for info about how you can better live out your ministry calling by training with Western Seminary.