Meet Western Seminary's Keane Collins!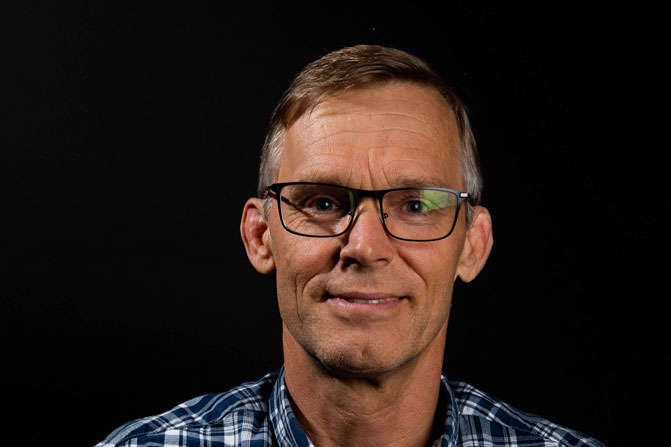 One of the first people new and prospective online students encounter is Keane Collins, Western Seminary's Director of Online Student Services. Over the course of their programs they will come to appreciate deeply Keane's experience and insights as a former student as he guides them through their studies. Still, few really know who Keane is and how he came to serve at Western.
Keane describes himself as a product of both coasts, growing up in Southern California before moving with his family to upstate New York at the age of 10. When it came time for college, his love of the beach culture brought him back to California where he earned his Bachelor of Arts degree in Aquatic Biology from the University of Southern California, Santa Barbara.
Not finding a lot of job opportunities in his preferred field, Keane ended up working for a New York Wall Street law firm before moving westward once again to work for a law firm in San Francisco. There the lure of business took him back to the classroom where he earned the Master of Arts in Business Administration from the University of California, Berkeley.
For the next few years Keane worked in the food industry, first for a produce company in Salinas, California, later as a distribution manager for Dole packaged foods in North America, and finally as a business manager for Freeze Dry Products USA.
While still in business, Keane remembers that the call of God to ministry became increasingly clear to him. Raised in the church, Keane had always believed in God the Creator, but, by his description, he had "stayed a long way away from Jesus." Now, at the age of 36 and facing a crisis in his life, a friend shared that the only person who was going to heal him was Jesus. He went home that night and asked the Lord to show him who He was and to "please heal me." As Keane now says, "He faithfully took it from there."
Even as he grew increasingly active in his local church, he became convinced that the church needed more people who would step up and make themselves available to God. When Keane left his business career to work in the ministry of his local church, he soon recognized that he needed more maturity and knowledge to serve effectively. He had always loved personal study but now understood that he needed the greater challenge of formal education to grow into the ministry leader God wanted him to be. After speaking to several respected ministry friends who had both gone to Western Seminary, Keane followed their path and enrolled in online classes. Wanting to dedicate himself to full time seminary study, Keane left his home in California to relocate with his family to the seminary's Portland campus.
In 2010, Keane joined the seminary's student services team, and in 2012 he graduated from Western Seminary with the Master of Divinity degree, open track. When asked recently how his time as a Western student impacted his life, Keane answered that it helped mature him in Jesus, and helped him become a better father for his children and an improving husband for his wife. Seminary allowed him to pursue "that aching tug and call on his heart" that he had experienced when he came to faith in Jesus.
Today, Keane is applying his skills and calling as he believes he was intended, both in his role at the seminary and in pastoral ministry. He reflects that not everyone is called to church leadership, but for some reason, God called him to the task. Not long ago he and his family planted a church in the Portland area that, by Keane's description, is growing slowly.
Looking back at this time as a student, Keane says that the most important lesson he learned was that he was not a good listener. He had to learn to slow down and listen to what God was teaching him through each verse of each book of scripture.
And his advice to new and current students? Keane hopes that students will recognize that, as time consuming and financially challenging as seminary surely is, it is a blessing that students themselves have chosen. "Each time you turn down an opportunity to pursue a social activity because you have books to read or a paper to write, remember that you are unusually privileged to attend seminary, to meditate deeply on the Word of God, and to become people who will be firmly planted in the truth of scripture."