MFM Mentor Benefit
Non-faculty mentors who support the Mentored Field Ministry program of Western Seminary are invited to audit one of our courses at any of our three seminary campuses. It is our small way of saying "Thank you!" for your investment in our students. We recognize, however, that distance from campus or time availability may make that option difficult for many of you. To make the mentor-course benefit available to everyone, for the first time we are able to invite you to view online, or download to your computer, one of our Online Campus courses instead.* Here's what those options mean to you:
Option 1: Stream Online through Your Internet Browser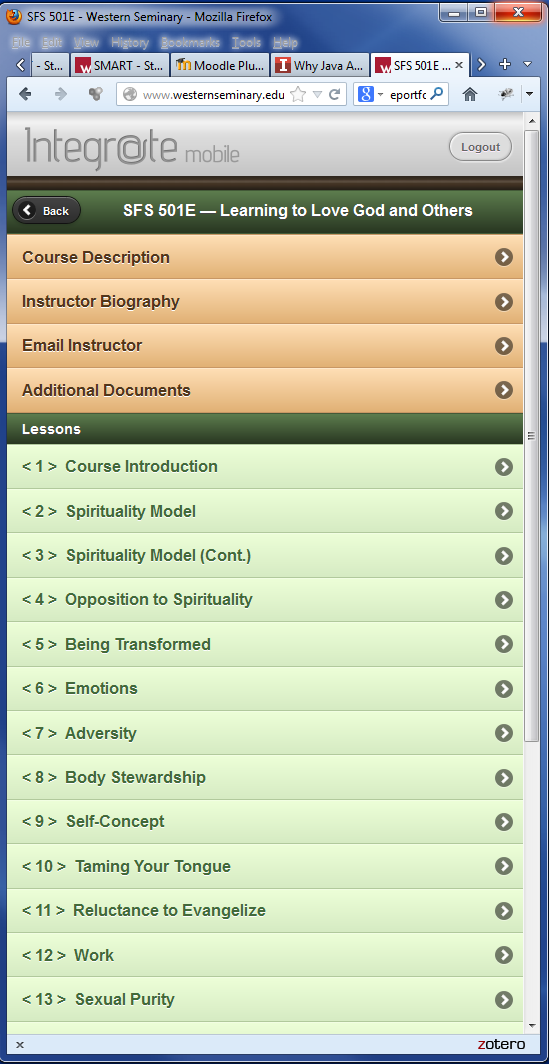 If you have access to a high-speed wireless Internet connection (WIFI), you may choose to access your course using a standard web browser. We recommend that you use either Google Chrome or Firefox for best performance. Since this is a browser-based approach, it will typically work effectively on desktop, laptop, tablet and smart phone platforms. After a simple login, you are able to view course media for the course you choose. We do not recommend, however, that tablet or smart phone uses stream course content using their mobile data plans. The files are simply too large and will consume most plans quickly.
To access your course online through your browser, please click on the link below.
Option 2: Download into Integr@te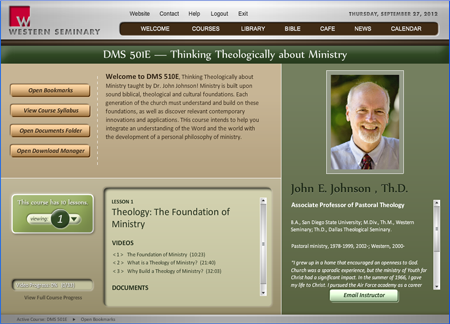 Most laptop and desktop computers now include one or more large (750 GB - 1 TB) disk drives that allow users to download and store large amounts of content locally. Once downloaded from the web, content becomes available universally without concern for an Internet connection. For this purpose, Western Seminary students download their courses into our propriety content and resource delivery platform, Integr@te. This system permits you to view course media anytime and anywhere. And you can copy your course to disk and keep it as a lifelong learning resource. The program also tracks your progress to help you know what you watched and how far along you are in your course.
How big is the course download? Pretty big. But don't let that be of great concern. Each semester hundreds of our students successfully download multiple courses to their computers for anytime viewing. For your guidance we have included total download sizes for each course in the chart below. Integr@te's download manager allows you to download courses all at once or piece by piece, with all the activity taking place in the background. After you successfully download your first media component, you can start watching while your course continues to download.
To use the Integr@te course delivery platform, you must first download two small programs: Adobe Air and, the program itself, Integr@te. For complete instructions please follow the link below.
Download and Install Integr@te
Option 3: Use Both!
Once you are registered to access the course materials, you can use Integrate when you are on your desktop or laptop, and Integr@te Mobile when you are using your tablet or smart phone. The same username and password works for both platforms.
* Note: Mentors who choose the online course option will not be registered as an audit student for that course and no record will appear on a student transcript. If you desire or require audit status, you must enroll in a campus course.
Available Courses
Course
Course TItle
Instructor
Download
BLS 501
Interpreting Genesis to Song of Solomon
Carl Laney
5.75 GB
BLS 502
Interpreting the Prophets and the Gospels
Carl Laney
5.69 GB
BLS 503
Interpreting Acts to Revelation
Carl Laney
6.13 GB
CHS 505
Wisdom from Church History
Marc Cortez
3.33 GB
DBS 506
Learning to Interpret Scripture
Todd Miles
5.75 GB
DIS 520
History of Missions
Mary Wilder
3.34 GB
DIS 526
Religions of the World
John Branner
3.22 GB
DMS 501
Thinking Theologically About Ministry
John Johnson
1.79 GB
DMS 502
Introducing Theology and the Practice of Worship
John Johnson
2.11 GB
DMS 506
Developing Godly Leadership in the 21st Century
John Johnson
2.26 GB
EMS 505
Growing Disciples Intentionally
Ken Epp
2.30 GB
ICS 501
The Chaplaincy
Dave Fredrickson
2.67 GB
PCW 511
Pastoral Understanding of Women
Beverly Hislop
2.08 GB
PCW 512X
Women in Pain Part I
Beverly Hislop
3.97 GB
PCW 512X
Women in Pain Part II
Beverly Hislop
3.04 GB
PCW 513
Women in Leadership
Beverly Hislop
2.61 GB
PCW 514
Building a Relational Ministry to Women
Beverly Hislop
2.64 GB
PCW 515
Develop and Deliver Life-Changing Messages
Phyllis Bennett
1.92 GB
PTS 503
Practicing Evangelism and Apologetics
Gerry Breshears
2.89 GB
PTS 504
Maximizing the Church's Redemptive Influence
Gerry Breshears
3.68 GB
PTS 505
Providing Leadership in Ministry
John Johnson
2.09 GB
PTS 506
Providing Pastoral Care
John Johnson
1.94 GB
PTS 507
Providing Pastoral Counseling
Norm Thiesen
3.89 GB
PTS 508
Developing Strong Families
Gary Thomas
1.96 GB
SFS 501
Learning to Love God and Others
Randy Roberts
3.15 GB
SFS 504
Growing into Ethical Maturity
Todd Miles
3.23 GB
THS 501
Theology I: Knowing the Triune God
Gerry Breshears
3.60 GB
THS 502
Theology II: Glorifying the God of Our Salvation
Gerry Breshears
3.60 GB
THS 503
Theology III: Living as the Community of the Spirit
Gerry Breshears
3.07 GB
THS 564L
Prayer and Providence
Gerry Breshears
& Todd Miles
3.05 GB
Sounds Good...Now What?
If you would like to use an online course to access your MFM Mentor benefit, here is all you need to do:
Choose your course from the above list.
Complete the following form and submit it for verification of your mentor benefit status and to select the course of your choice.
You will receive confirmation by email of your selection, along with your login information. If you plan on using Integr@te to download your course, you may download and install the two required files at any time. You will not, however, be able to access your course until you receive your username and password.
If you have any questions regarding the involved systems and technologies, please email James Stewart or call him at 503-517-1898.
Response Form
Thank you! Your message has been sent!