Speaker: Becky Pamer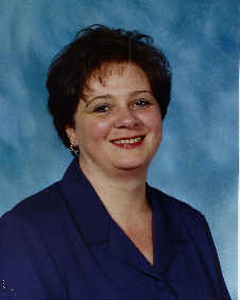 "I pray that you, being rooted and established in love, may have power, together with all the saints, to grasp how wide and long and high and deep is the love of Christ, and to know this love that surpasses knowledge - that you may be filled to the measure of all the fullness of God. Now to him who is able to do immeasurably more than all we ask or imagine, according to his power that is at work within us, to him be glory in the church and in Christ Jesus throughout all generations, for ever and ever! Amen." ~ Eph 3:17-21

Family: Married, Mother of 2
Hobbies: Reading, writing, sewing, visiting with friends, some reality TV, Scrabble.
Believer Since: 1970
Email: This email address is being protected from spambots. You need JavaScript enabled to view it.
Mission Statement
God is relevant.
Ministry Background
Leader in ministry to youth, women, and small groups. Coordinator for church events, weddings, retreats, and family camps.
Educational Background
Tax preparer, bookkeeper, administrative assistant to women's ministry director, freelance writer and speaker.
Professional Ministry Associations
Oregon Christian Writers Association
Speaking Level
Experienced (26+ events)
Speaking Experience
Guest speaker at retreats for women, youth, and mixed groups; lecturer at women's Bible studies; presenter at writing workshop (Heart Talk 2007); MC/Facilitator for church events.
References
Available upon request.
Publications
Discipleship Journal; Beliefnet.com; War Cry
Current Presentations/Tapes/Videos
Willing to develop topics or teach from Scripture according to each group's needs. Prepared titles include: "How to Survive Church: Dealing with Disillusionment"; "Mud, Manure, and Miracle Grow: The Messy Pathway to Maturity"; "Bloom Where You're Planted"; "Because He First Loved Us: Letting Him Love You Into Loving Him"; and "Toward a Fruitful Future: Lessons from Psalm 92."
Preferences and Constraints
---
Speaking Types

Conferences
Women's Groups
Workshops
Retreats

Speaking Availability

Days
Evenings
Weekends
Local
Regional
National
International
---
Fee Requirements

Love Offering
Usually under $500
Usually over $500
Accepts your usual fee
Negotiable

Special Needs

Lodging (Private)
Travel (Negotiable)
Dietary
---
Audience

Women
Mixed
Male (Possibly)
College
Career
Youth

Audience Size

Small groups (less than 50)
Medium (50-100)
Large (100-150)
Very Large (over 500)
---