Speaker: Holley Clough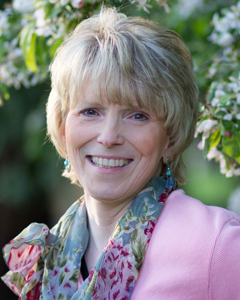 Trust in the Lord with all your heart and lean not on your own understanding. In all your ways acknowledge Him and He will make your paths straight. ~ Prov 3:4-5

Family: Married, Mother of 2 adult children
Hobbies: Spending time with family, gardening, German Shepherd dogs, reading and Bible study, learning, loving people
Believer Since: 1961
Email: This email address is being protected from spambots. You need JavaScript enabled to view it.
Phone: 503-720-5599
Ministry Specialties
Adult Education; Life Coaching & Pastoral Care; World Missions
Mission Statement
To resonate my faith through creatively helping others discern and develop their God given potential.
Ministry Background
Over 30 years of pastoral ministry within the church and Christian community. Chairman for couple's retreats, women's retreats, kid's camp, vacation Bible schools. Led Bible studies: Panache, Heart to Heart and Precepts. Served on leadership teams, volunteered in public and private schools, and youth and service trip leader.
Professional Background
Over 30 years working in Christian higher education, non-profit and academic sectors,Experience includes marketing, student recruiting, directing, advising, instructing and teaching, program design and evaluation, and assessment. Exceptional skills in relationship building, student and faculty recruitment/relations, coaching, communication in a variety of topic areas.
Educational Background
B.A., Management and Organizational Leadership, George Fox University
MA, Pastoral Care to Women & Life Coaching, Western Seminary
M.Div., Equivalency, Golden Gate Baptist Theological Seminary
D.Min., Church Planting - Program Implementation, Golden Gate Seminary
Professional / Ministry Associations
International Coach Federation, Council for Adult experiential Learning, Christian Chamber of Commerce Education Committee. On Boards: World Team International; Mission Connexion; Nehemiah Ministries, Christian Adult Higher Education Association.
Speaking Level
Experienced
Speaking Experience
Council for Adult Education and Christian Higher Education Associations, multiple speaking engagements.
REVIVE Women's conference, lab speaker.
Corporate and various Educational presentations
Adjunct faculty at The Kings University and Multnomah University
Guest lecturer and presenter at many different functions, including graduation speaker
Devotions, etc.
References
Available upon request.
Publications
Heaven, Randy Alcorn (contributor)
Christian Coaching Online Book Review: Courage and Calling
Christian Coaching Online: Power of Life Coaching for Academics
Dissertation: Testing a Reproducible Model for Using Life Coaching for Academic Recruitment and Retention
Current Presentations/Tapes/Videos
Living on Purpose: The Hope of your Calling
The Power of Life Coaching: Theology, Theory and Techniques
Journey to Eternity: Living with Wisdom and Fervor
Adult Education: Journey back to education
Equipping for Discipleship: Growing God's People
Developing a Ministry Plan: Growing in Strengths and Gifts
Ministry of Reconciliation: Cross-cultural missions
Leadership in a Christian Context
Preferences and Constraints
---
Speaking Types

Conferences
Women's Groups
Workshops
Retreats
Keynote

Speaking Availability

Days
Evenings
Weekends
Local
Regional
National
International
---
Fee Requirements

Love Offering
Usually under $500
Usually over $500
Accepts your usual fee

Special Needs
---
Audience

Women
Mixed
Male
College
Career
Youth

Audience Size

Small groups (less than 50)
Medium (50-100)
Large (100-150)
Very Large (over 500)
---