Speaker: Joanne Wallace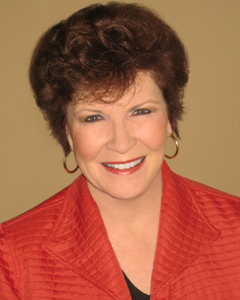 Home City/State: Washougal, WA
Website:www.joannewallace.com
Email: This email address is being protected from spambots. You need JavaScript enabled to view it.
Phone: 360.606.1263
About Joanne
Joanne Wallace is a very gifted and talented woman: best-selling author, media personality, internationally known speaker, successful former corporation president, award winner, wife, mother and grandmother - not listed in order of importance!
Joanne is a member of the National Speakers Association where she received the prestigious designation of Certified Speaking Professional (CSP), the Council of Peers Award of Excellence (CPAE), and was also inducted into the Speaker Hall of Fame. In 1989 she was the recipient of the Award of Excellence from the International Image Industry. She has held the title of "Mrs. Oregon" and competed in the Mrs. America Pageant. Joanne founded the internationally known Image Improvement, Inc. now headquartered in Tampa, Florida. She has also been active as chairperson and speaker for Christian Women's Clubs. Joanne received her education at Seattle Pacific University and Portland State. She has teaching experience in several community colleges as well as Warner Pacific and Western Baptist College in Oregon.
Speaking Topics
You are an Image Bearer of Christ (Genesis 1:26-27, Col. 3:10)
Who am I, Anyway? (Eph. 2:10, Phil 1:6)
Let's Build Relationships! (James 3:5-10, Eph. 4:15)
Forgiveness -- Putting Your Past To Rest (Psalm 32:1, Mark 11:26)
Extreme Heart & Soul Make-Over! (Jeremiah 29:11 "For I know the plans I have for you..")
Born for a Purpose
From Frazzled to Focused! (Psalm 46:10)
Living a Fulfilled, Victorious Life! (Phil 1:6)
Overcoming Temptations! (1 Cor. 10:13)
Loving a "Prodigal" (Luke 15:11-32)
Relationship Building! (John 13:34-35)
Discovering Your Self-Worth! (Psalm 139:13-17)
Slow Down....There's No Time to Waste! (Psalm 46:10a "Be still, and know that I am God")
Intimacy - Looking Upward, Looking Outward, and Looking Inward
Best Fit Audience
Women's conferences, retreats, seminars, and outreach functions
50 to 500+ individuals
Accepts local, regional, national, and international speaking engagements
Additional Information
Publications: books include As Refreshing As Snow in the Hot Summertime, Starting Over Again, Mini-Memories for Image Bearers, and The Confident Woman. She won the 1979 Best Writer award for The Image of Loveliness from the Northwest Christian Writer's Conference. Gospel Films is distributing her video series entitled Being Your Best For Him internationally. Audio and video cassettes of her sessions can be used as resources for group meetings.