REVIVE 2017 - Press On!
The fall ministry year will soon be off to a running start! By November, women involved in all kinds of ministry - whether in a church, parachurch organization, or in the community - often feel a need for a fresh burst of energy.
That's when REVIVE comes to town! REVIVE is a half-day women's conference, held in both Vancouver and Portland, that aims to transform ministry leaders from feeling like a sun-scorched land to a well-watered garden! (Isaiah 58:11)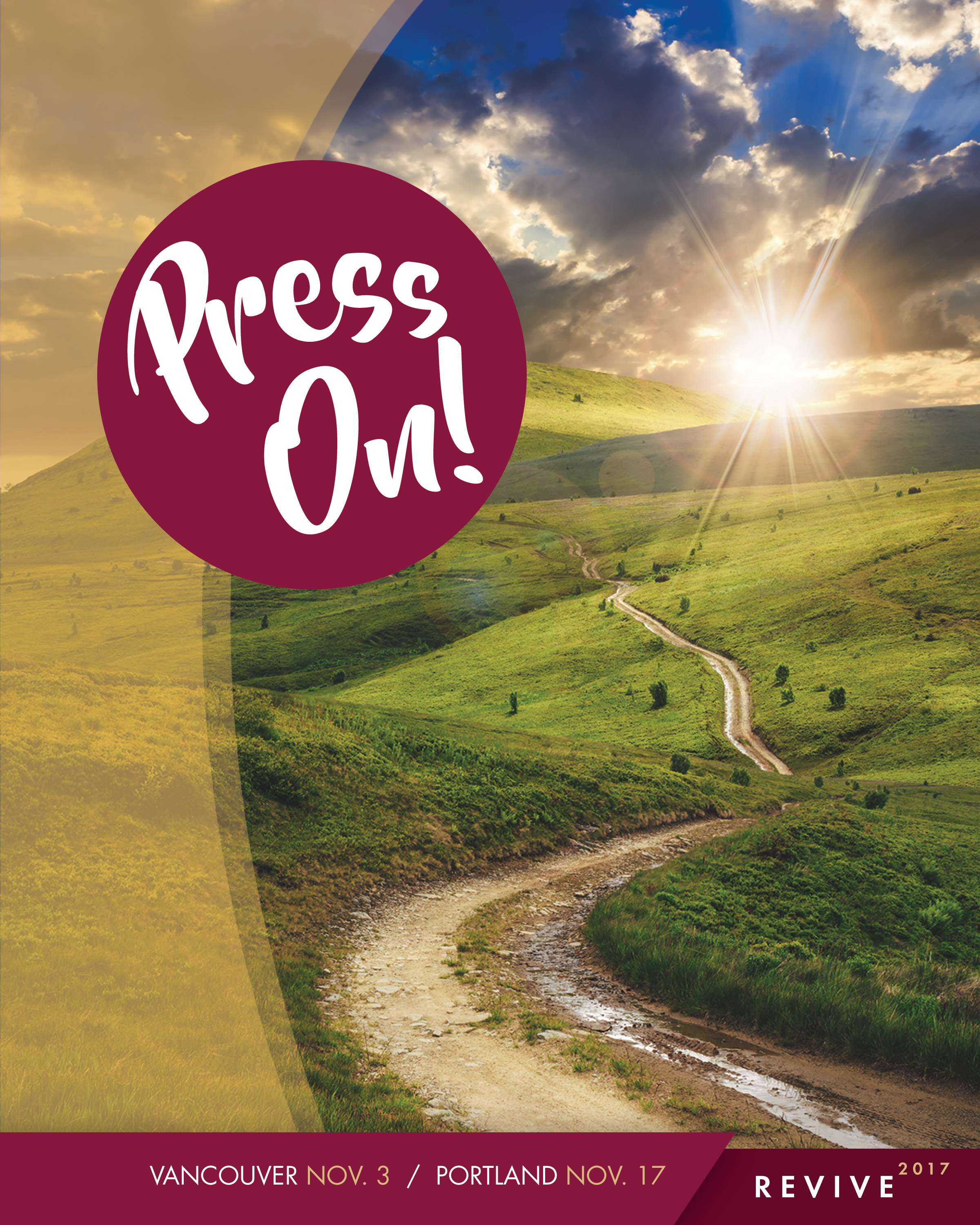 Not that I have already obtained all this, or have already arrived at my goal, but I press on to take hold of that for which Christ Jesus took hold of me. Brothers and sisters, I do not consider myself yet to have taken hold of it. But one thing I do: Forgetting what is behind and straining toward what is ahead, I press on toward the goal to win the prize for which God has called me heavenward in Christ Jesus. Philippians 3:12-14

Press On! A captivating, well-known command that stirs the heart to total pursuit of Christ (Phil. 3:12-14). But how do we get from where we are to where we long to be?
ATTENTION: Did you miss our Revive conference this year? Youre in luck! We have all of our keynote and lab speakers on audio for you to purchase, along with their notes to follow along! Interested in this package? Email This email address is being protected from spambots. You need JavaScript enabled to view it. (Price: $10)
Our Press On! conference promises to be a morning overflowing with:
Spirit-filled corporate worship
Biblical insights from keynote speaker Karen Howells
Encouraging fellowship with women who share similar ministry passions, and
A selection of 6 inspiring and empowering lab sessions
Event Details & Registration:
Dates and Locations: The Vancouver and Portland events will offer the same content, just in different venues! Please keep in mind that free childcare is only available in Portland this year. Free childcare will not be provided at our Vancouver REVIVE.
Vancouver REVIVE:
Friday, November 3, 2017 | 8:50 am - 12:30 pm
New Heights Church, main campus | 7913 NE 58th Ave; Vancouver, WA 98665
Online Registration for Vancouver is now closed.
Portland REVIVE:
Friday, November 17, 2017 | 8:50 am - 12:30 pm
River West Church | 2000 Country Club Rd; Lake Oswego, OR 97034
Cost: $15 per person
Free Childcare: Available at Portland REVIVE with preregistration only; childcare is not available for women who register at the door. Sorry, childcare will not be provided at the Vancouver REVIVE.
Refreshments: Light refreshments will be available in the morning; you will be dismissed in time to have lunch with new or long-standing friends.
Labs and Speakers: Check out our labs & speakers page for full details about the lab sessions offered at this year's conference. You will be able to attend only one of the six labs, as they are offered simultaneously.
Ministry Passion Groups: Except for during the labs, conference seating will be around tables that are organized according to ministry passion. You will have time at this conference to meet, network, and collaborate with local women who share similar ministry passions.
Downloads: Want to download our graphic for your church's promotional material? You can do so here!
You can also download our premade PowerPoint slides in both black and white.
Ministry Passion Groups Include:
The Ministry of God's Word

Leading others – Leadership
Family Ministries (children, youth, etc.)
Children's ministry
Youth Ministry
Young Moms
Discipleship/Mentoring
Mission to the City
Mission to the World
Compassionate Care
Worship and the Arts
Hospitality
Prayer
Evangelism
Writing/Speaking