Sacramento Graduation Orientation
Graduating? Time to get excited!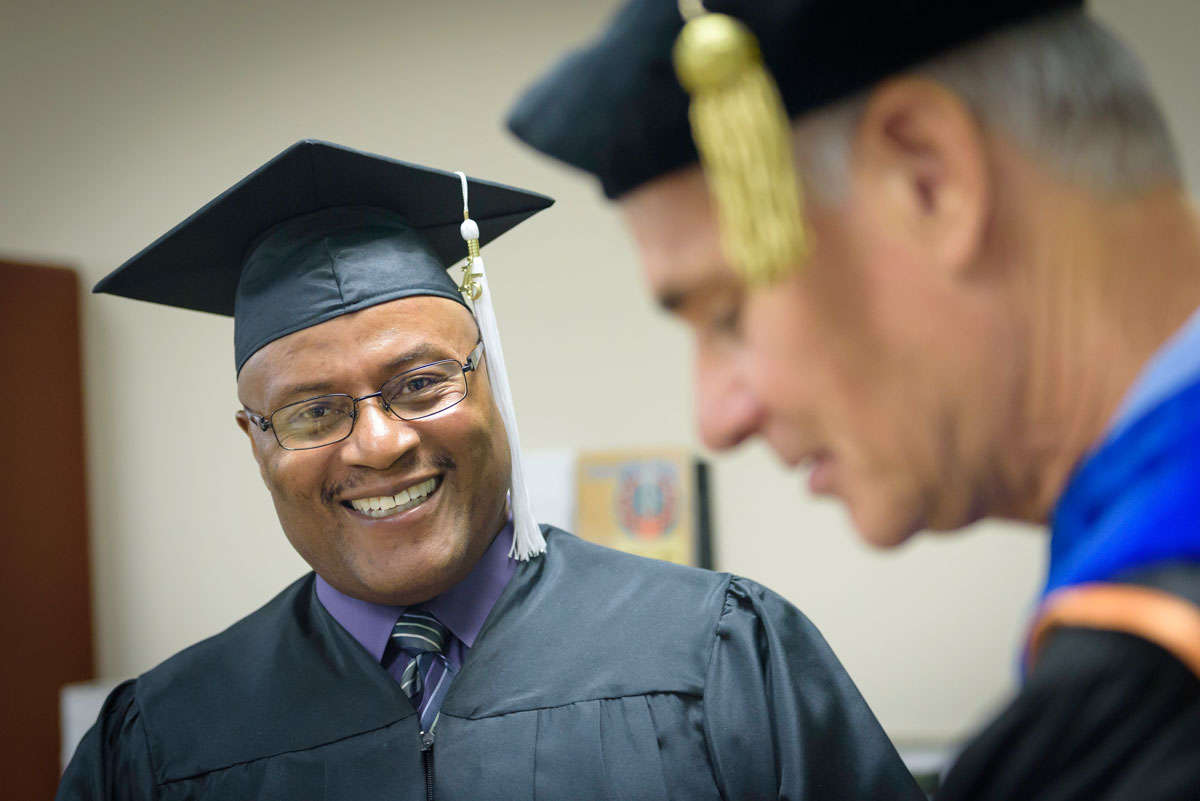 So you're ready to graduate, are you? Congratulations! We hope you take some time to reflect on how hard you've worked to reach this moment in your academic career. Life happens between your first semester and your last. You've experienced joys and sorrows alike during your time as a Western Seminary student. You've made sacrifices of time, money, and energy. Likewise, your loved ones have also sacrificed with you along this journey.
Some of you have blasted through your program, and others feel as though you're crawling over the finish line. No matter what pace you went, you should be so proud of all of your hard work and everything it took to get to this point! We trust you have been transformed by the gospel and fully equipped to go out and do the good works God has prepared in advance for you to do.
Here you'll find all of the information you need to know in order to be prepared for Commencement weekend.
When?
| | |
| --- | --- |
| Event | Graduation Banquet |
| Date | TBD due to COVID-19 |
| Time | TBD |
| Time Doors Open | TBD |
| | |
| --- | --- |
| Event | Commencement Ceremony |
| Date | TBD due to COVID-19 |
| Time | TBD |
| Time Doors Open | TBD |
Please take a look at the Sacramento Graduation homepage
Preliminary Info: Grad Fees, Absentia, and Grad Questionnaire
Grad Fee
You should have already submitted your application to graduate through your SIS account. You should have noticed that a $250 graduation fee (or $40 for GSC graduates) was assessed to your student ledger. This is the indicator that Western has received your application to graduate.
What does the grad fee cover?
Professionally printed diploma and cover
Graduation audit expenses
2 Banquet tickets
Regalia
Facility expenses
Much more
Do you have to pay the fee even if you're graduating in absentia? Yes. The majority of the costs are covered by Western, as it costs much more than this for each student who graduates. The fee is due at the time it is charged to your student account.
---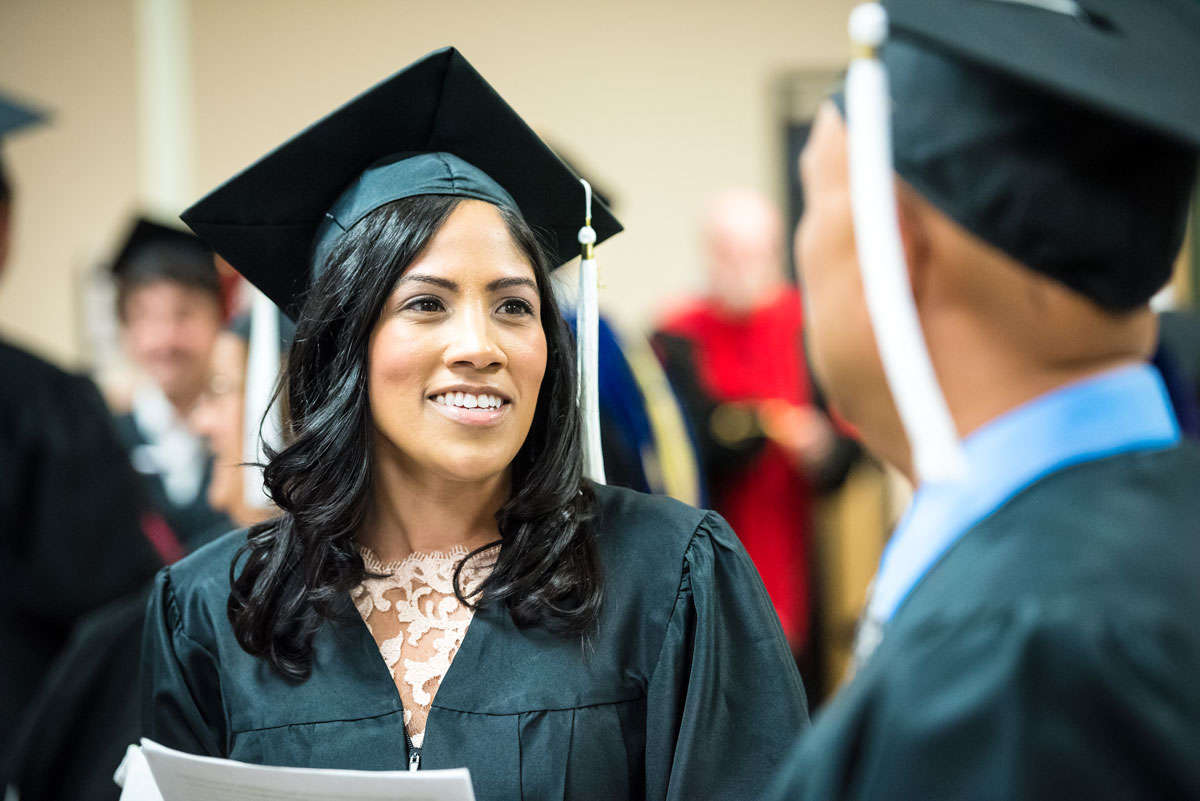 Is participating in Commencement weekend mandatory?
Commencement: yes.
Banquet: no.
Commencement is mandatory for all degree programs except the Graduate Studies Diploma and Graduate Studies Certificate. GSD students have the option to walk if they so desire; GSC students do not walk.
If you wish to graduate "in absentia" (not attend commencement), you should have indicated that in your application to graduate, followed by submitting an academic petition in SIS explaining the reasons for your request. Typically acceptable reasons are: moving/living out of state, unreasonable traveling costs, serious illness etc. "I don't really want to participate" is not considered an acceptable reason. We hope that you'll look forward to commencement as a way to celebrate and commemorate all of the hard work you've done to complete your program. Think of commencement as an Ebenezer of sorts in your educational and spiritual journey.
The banquet, while not mandatory, is highly encouraged. It is a special, joyful evening meant to celebrate and reflect on your accomplishment with your classmates, family, and greatest supporters.
---
What do I need to do before grad weekend?
Graduate Questionnaire
ALL students are required to fill out a Graduate Questionnaire. We will be utilizing your answers for various portions of the graduation banquet and commencement ceremony. We encourage you to reflect on what you want to say, and understand these questions are more introspective and consequently can take a little time, so start early. Your responses will be submitted to Student Services. Don't worry, you'll be able to save your answers and come back later to work on it if you need to. A SurveyMonkey link will be emailed to you, so be on the lookout. Questionnaires are due by Sunday, March 15th.
Photo
You are also required to submit a nice, forward facing, high resolution photo of just you. These are used in our slideshow as you walk across the stage during commencement. No need for a professionally done photo (unless desired); a well-lit up-to-date phone shot should do the trick. If your photo is not clear enough, you may be asked to submit another. If you do not submit one, we will use whatever we have on file for you (ID card photo). You will be able to upload and submit your photo in the same SurveyMonkey link as the grad questionnaire. An example photo is shown below.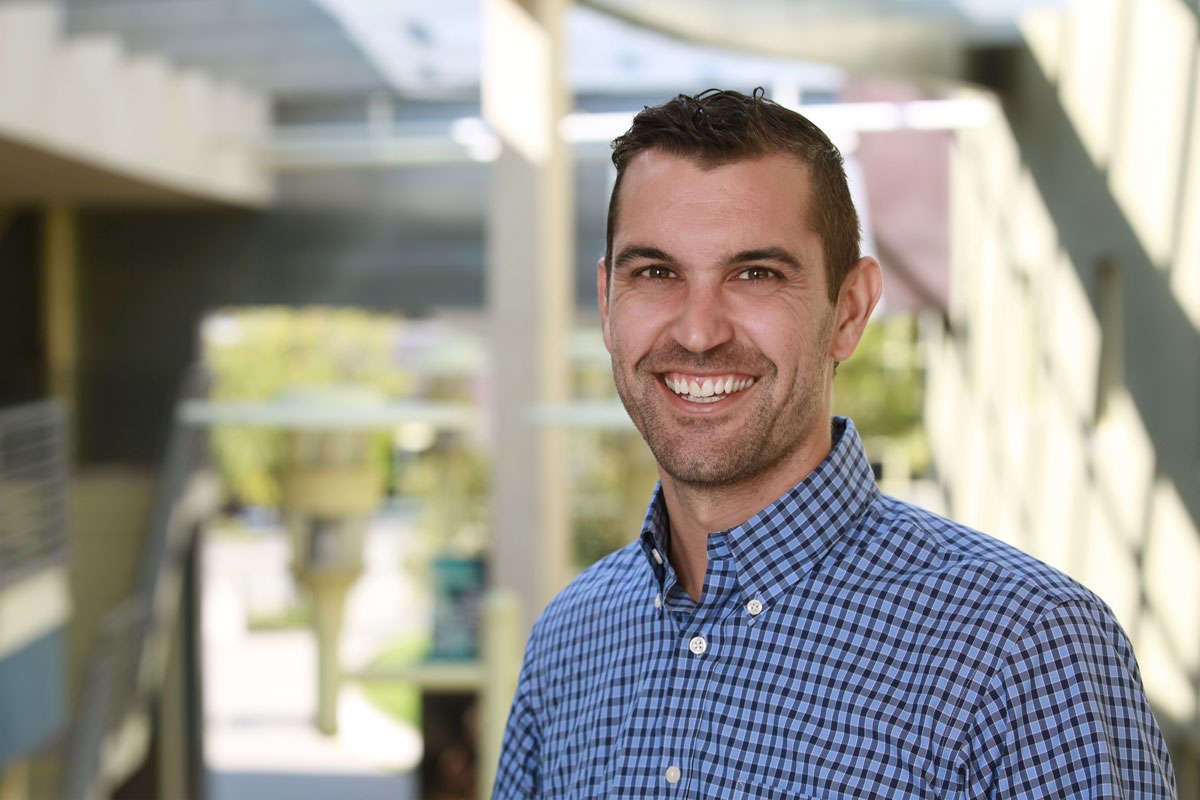 The Graduation Banquet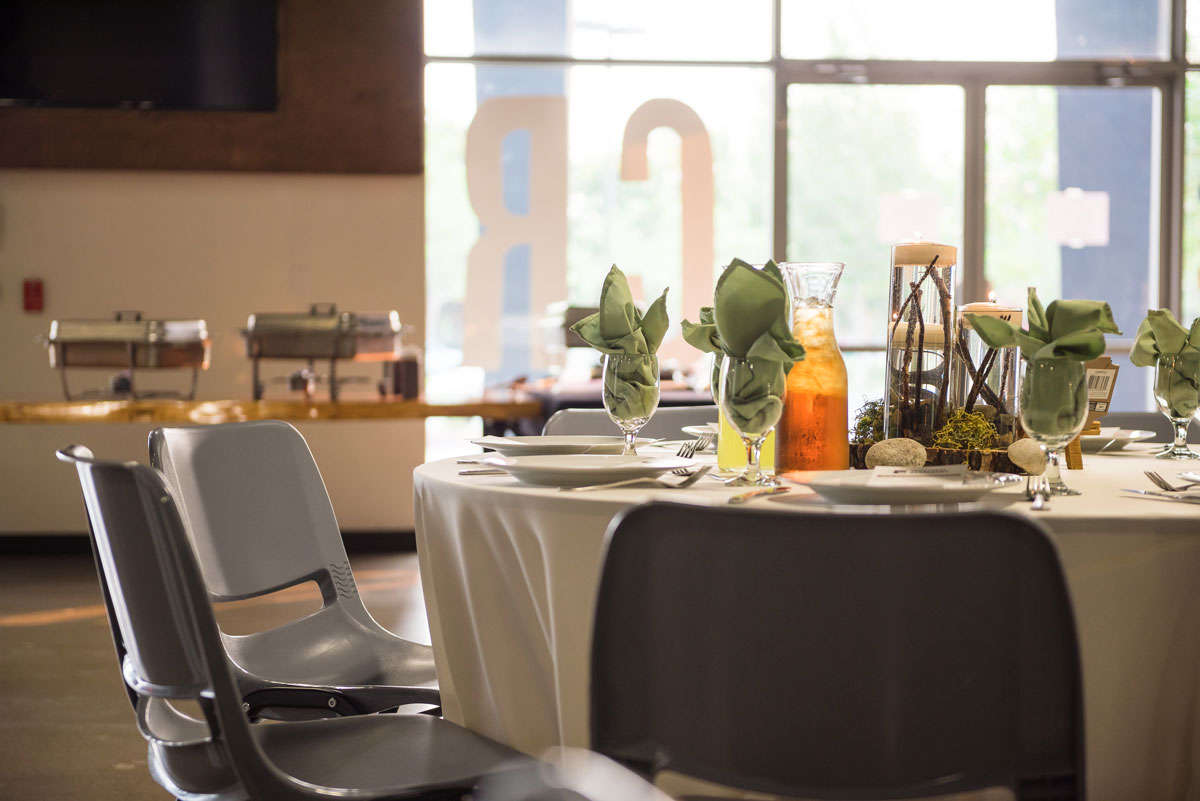 | | |
| --- | --- |
| When: | TBD due to COVID-19 |
| Time: | TBD |
| Where: | TBD |
This is the church Western shares a building with. Enter building through the main front entrance, not Western. Doors will open at 6:00pm.
Tickets
You will receive two free tickets to the banquet: one for you, and one for your significant other/guest of choice. You may purchase up to six additional tickets, totaling up to eight people in your party. Tickets are first-come-first-served, so don't wait. A link will be emailed about two months before the event so that you can reserve your free tickets and purchase additional tickets if desired. All students need to reserve tickets, even if you only intend to use the two free ones.
Ticket prices are estimated to be between $20-30. There are no physical tickets given or required upon entry.
All seating is assigned to ensure groups get to sit together, and we ask all guests to sit at their associated table. A table seats eight comfortably. If you would like to invite more guests, please send Lindsay McKinnon an email at This email address is being protected from spambots. You need JavaScript enabled to view it. and she will put you on a first-come-first-served list and inform you with enough time before the event whether or not your request was approved.
Who should I invite?
Family
Friends
Major supporters in your educational journey
Children 10+ (nursing infants of course are welcome as well, though we ask that you make arrangements for young children, as they may have a difficult time sitting quietly during some aspects of the program)
What should I wear?
Dress code: Dressy casual. It's going to be reasonably hot in May, so we want you to be comfortable (no full tux needed!), but come looking like you're ready to celebrate the occasion.
Ladies: Nice summer dress or skirt/blouse combo recommended
Gentlemen: Button-up shirt/polo and slacks or nice shorts. Tie if desired.
I and/or my family member has a dietary restriction. Will we be accommodated?
As best as we can. We will offer vegetarian, gluten free, and dairy free options in some entrees/sides. There will be a spot when you purchase tickets where you can indicate dietary needs/restrictions and a space for comments as well.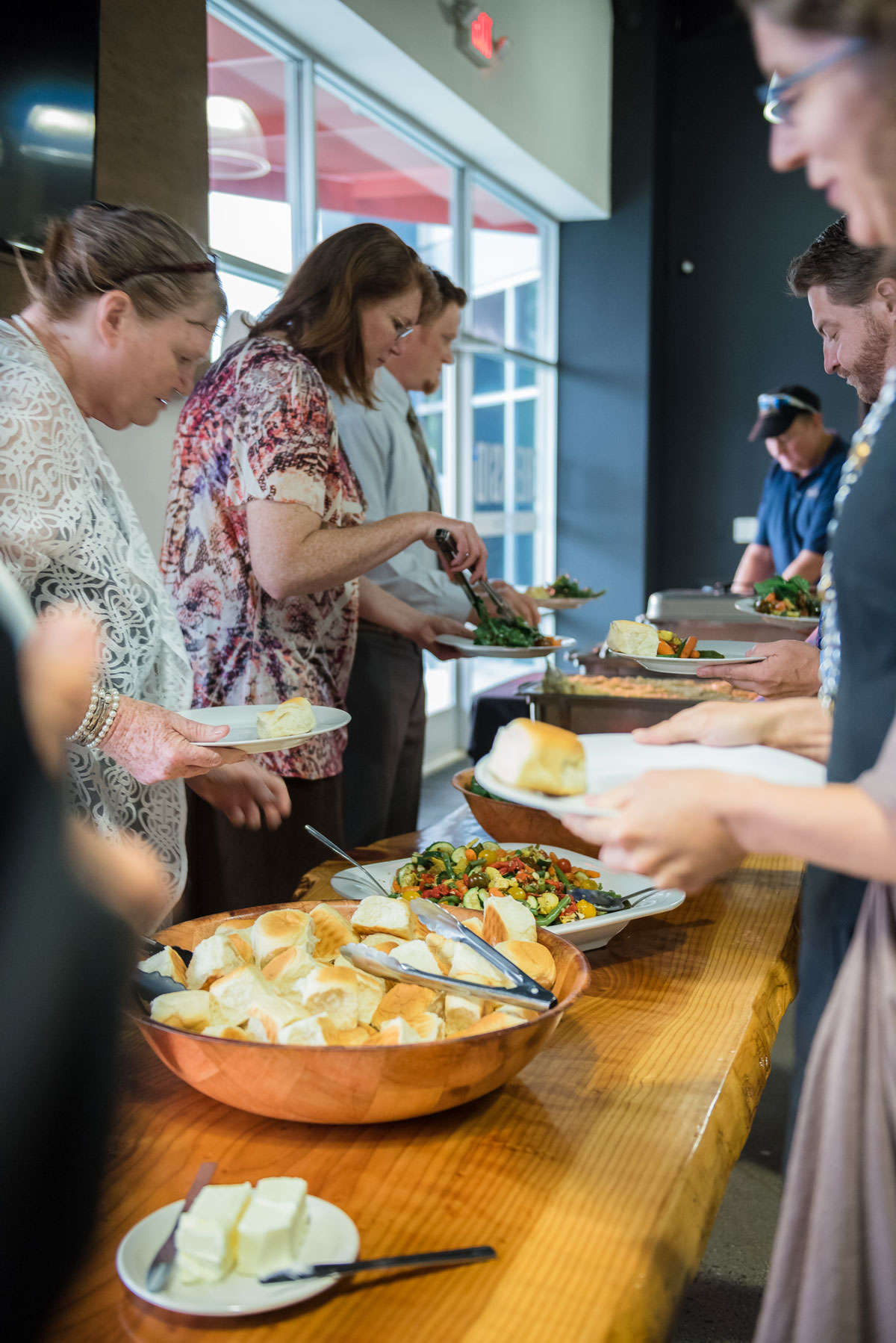 What will we do at the banquet?
Eat delicious food
Hear from our President, Dr. Randy Roberts
Hear from student speakers
Enjoy singing and music
Celebrate!
Be on the lookout for the emailed ticket link!
Questions about the banquet? Contact Lindsay McKinnon at This email address is being protected from spambots. You need JavaScript enabled to view it.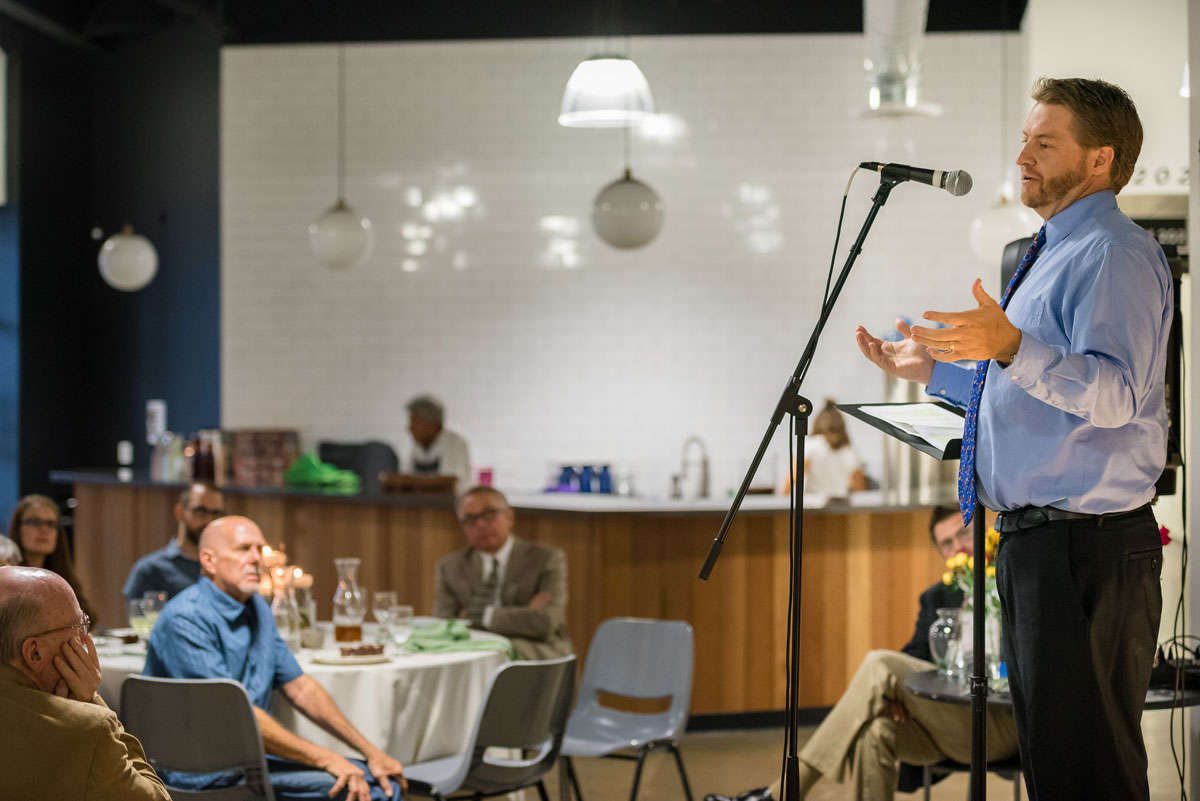 Commencement: The Big Event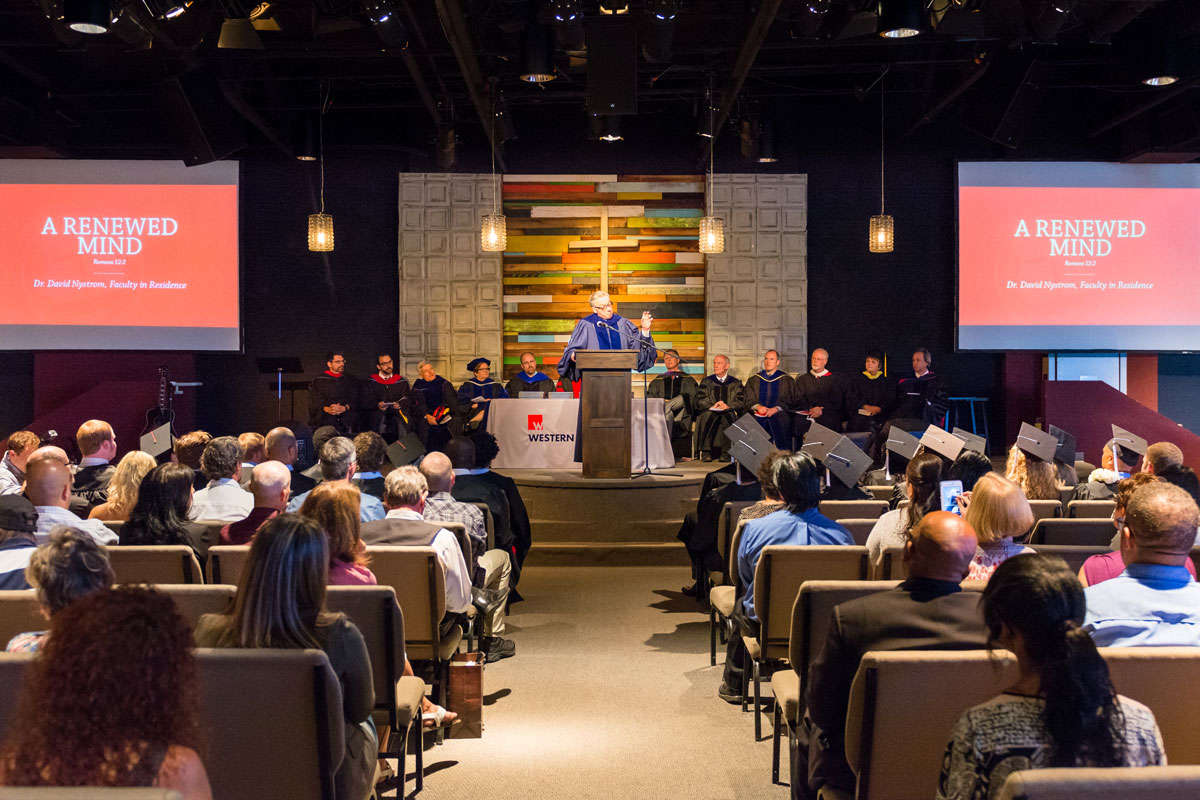 | | |
| --- | --- |
| When: | TBD due to COVID-19 |
| Time: | TBD |
| Where: | TBD |
This is the church Western shares a building with. Doors open at 10:30am (no earlier) for guests who will enter through the front main entrance.
What time do I need to be there?
All graduates need to meet in the Student Resource Center at 9:00am. DO NOT BE LATE! Last person to arrive will get a "kick me" sign placed on the back of their regalia. Ok, not really, but don't be late! You do not want to miss your opportunity to be in the group photo, as there will not be another chance.
Rehearsal
We will be running through commencement rehearsal as well as taking your official group and individual pictures. During rehearsal we will line you up in correct order, show you where to sit, how to enter the stage, practice hooding, diploma receiving, and more. Do NOT bring your family or friends with you at 9:00, as they be asked to wait at a local coffee shop until doors open at 10:30am.
After rehearsal you will have just a little "down time" in order to use the restroom, freshen up, adjust your regalia, take pictures with peers, and grab a snack. We will be providing some light breakfast items and coffee for you. Please stay nearby in the Student Resource Center and do not wander. We don't want you to miss the queue to line up!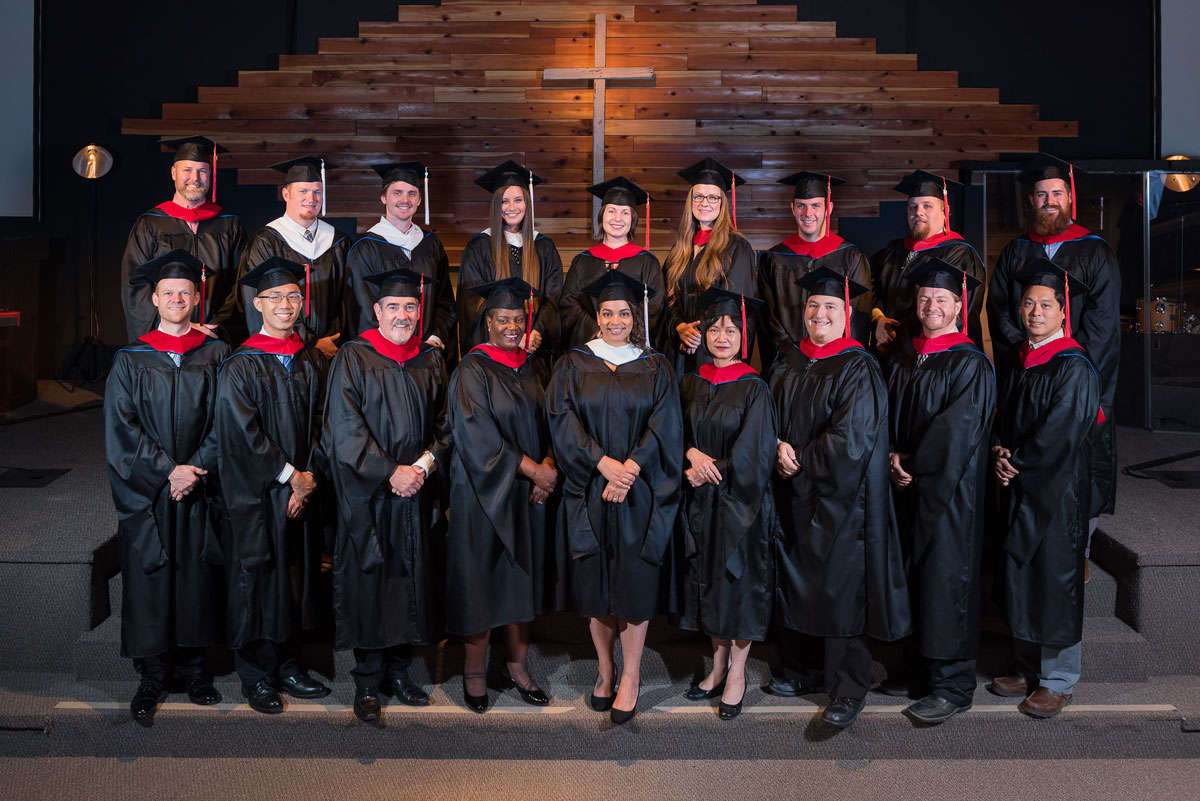 Where do I put my stuff? Will it be safe?
We encourage you to put your personal items in a Western office (we'll let you know which one) that will be locked during the ceremony, and unlocked immediately after. Please do not leave it unattended at your seat in the Worship Center.
Guest Invitation
When inviting guests, we ask you to cap it at 25 people.
Should you wish to invite more, please email Lindsay McKinnon at This email address is being protected from spambots. You need JavaScript enabled to view it. and she will put you on a first-come-first-served list and will let you know if it is approved or not with reasonable time before commencement. There will be a cry room available should it be needed for the little ones. We will have enough seats for everyone as long as you adhere to the cap number.
There are NO PHYSICAL TICKETS needed to attend the commencement ceremony.
We know that reserving groups of seats can be tempting, but please be respectful of other guests who have shown up on time in order to get the seat they want. They're here to see their loved ones graduate too.
Gospel highlight
We know that not everyone invited to commencement will be fully committed Christians. Bearing that in mind, we ensure that through our graduation keynote and student speakers the gospel is highlighted so that you may have an opportunity to witness to and connect with your unbelieving friends and family. Gospel-centered transformation is what Western's all about, after all.
Immediately following the ceremony
Please exit the worship center and plan on meeting your friends and family in the main lobby for pictures and hugs so as to thin out the crowd. Light refreshments will be provided (cookies, water), though we encourage you to go out and celebrate over lunch together. Remember to go back to campus to retrieve your personal belongings.
Commencement: Regalia
Ordering and Distribution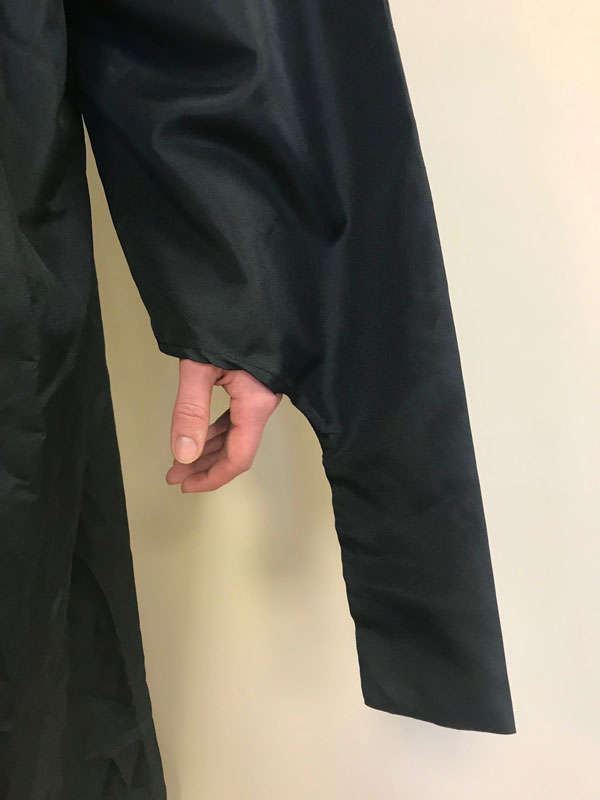 On your graduation application, you should have noticed it asked for height and weight information. This was for your regalia order. Regalia packages will be ordered in advance by Student Services, and you will receive an email when it has arrived so that you can come pick it up from campus. Can't make it to campus because you live too far away? We'll have it available for pick up at the graduation banquet the evening before. Just let us know if that's what you're needing. Not planning to attend banquet? Let us know and we'll make other arrangements for you to receive your regalia.
Once you receive the regalia, you are encouraged to try it on to make sure there are no defects and it fits properly. Do not worry about the funky sleeves! They're supposed to be that way! Students find them handy for hiding chapstick, phones, or other items in.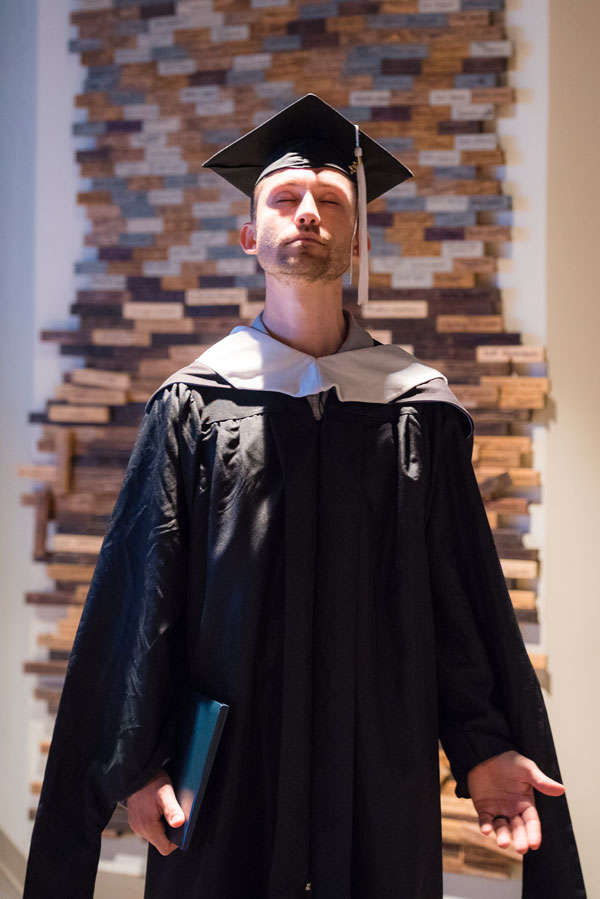 What's included in my regalia package?
Master's gown
Master's hood specific to your field of study
Mortarboard cap
Year dated tassel specific to your field of study
How do I care for my regalia?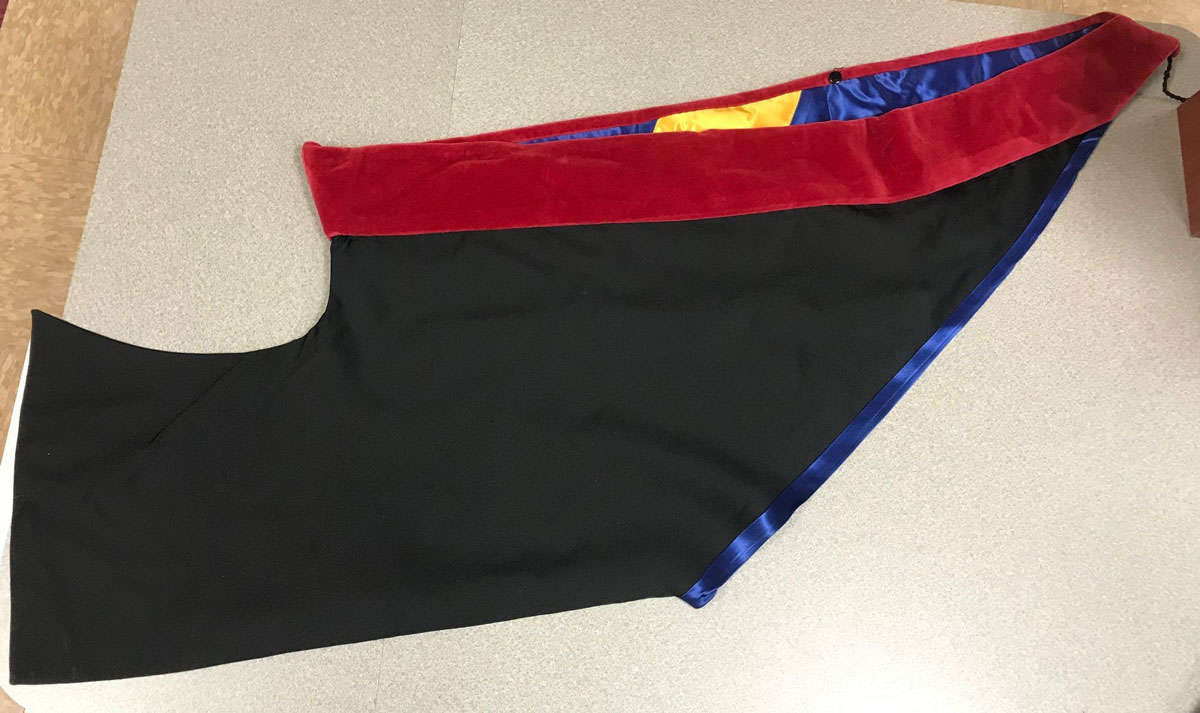 Please plan to hang up and steam your gown prior to coming to commencement. You may also iron your hood (on a low setting), if needed, but do not iron the velvet portion of the hood as it could ruin it. Do not wear your regalia in the car on the way over to rehearsal, but rather hang it up on a hanger and plan on putting it on during rehearsal.
I already have regalia, can I just wear that?
No. The Master's level regalia is different than anything you may have already.
Do I get to keep my regalia after commencement?
Yes! All of this is yours- we do not want it back.
Can I decorate my cap?
Due to the fact this is a commissioning of students, as much as it is a celebration, we think it is most appropriate for the occasion for us a seminary and graduate institution to leave gowns and caps in their original condition without any extra adornment. We do have a limited number of extra caps if you would like to decorate one and you can bring it with you so that you can wear it in your pictures if you'd like. Just ask Student Services when you pick up your regalia.
Note regarding regalia quality
We have recently switched to more environmentally friendly biodegradable regalia packages, and as a result, they are not the absolute finest quality. However, they are of nice enough quality to use again, if needed. Should you wish to purchase finer quality regalia, you may certainly do so. Western currently has older fine hoods in stock that we are selling for $20 (cash/check).  Please contact Lindsay McKinnon at This email address is being protected from spambots. You need JavaScript enabled to view it.  if you would like to purchase one.  If you would like to order a brand new fine hood, it will take at least two months for Jostens to make and ship your regalia and we do ask that you wear the pre-ordered regalia in the commencement ceremony so we have a consistent look.
Other purchase options from Jostens
There are other items available for purchase through Jostens: custom Western Seminary diploma frames, announcements, jewelry, and more. All of our items were updated recently and look really sharp. If ordering a diploma frame, the document size is H: 8" W: 10". To view and order these items, click below to visit the Jostens site, and search for Western Seminary- All Locations.
Jostens Website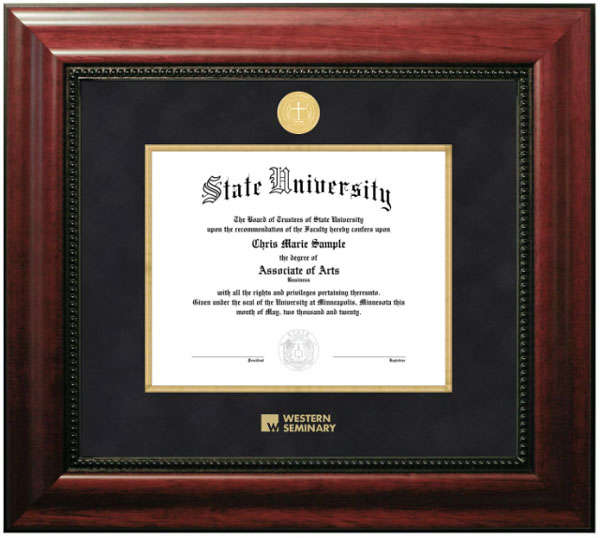 This is one example of a diploma frame option. You may choose different options and personalize yours as desired.
After Commencement: Receiving your diploma & official transcript ordering
Diplomas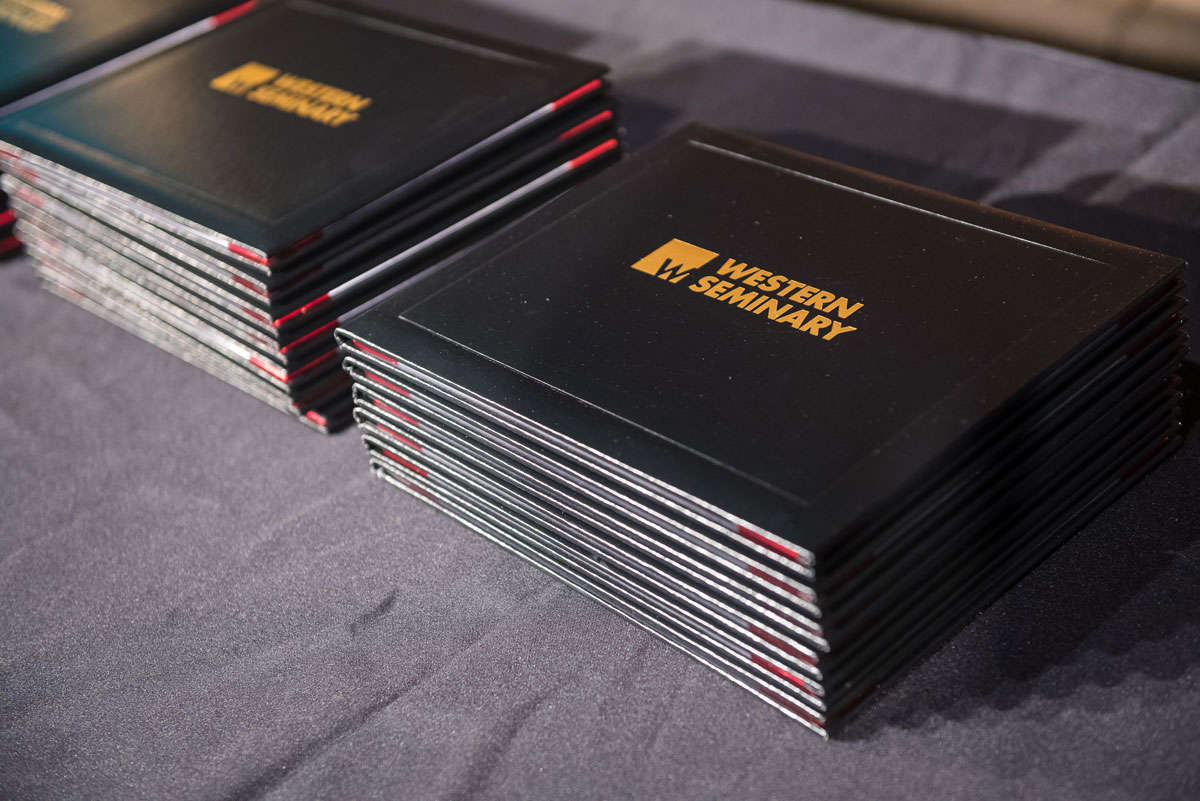 Diplomas will be mailed from Jostens to all spring, summer, and fall graduates, and they can take up to two months from the end of the semester for you to receive. It takes 4-6 weeks for the Registrar's Office to confer your degree and submit diploma orders through Jostens. Diplomas are expected to mail out 2-3 weeks after degree conferral. To expedite processing, please make sure the following conditions have been met:
All of your final grades have been submitted by faculty and your degree has been certified.
Your account balance has been cleared to $0 with the Business Office.
You have completed the Financial Aid Exit Interview if you've received federal loans.
Your mailing address that is listed in S.I.S. is current.
Once your degree has been conferred by the Registrar's office, you will receive an email informing you of such, and asking you to verify that your mailing address is correct. Be on the lookout for this important email.
Using Your Legal Name
Like your transcript, your diploma will be an official document. Therefore, we will be using your full, legal name. If you legally change your name before you graduate, you must submit a Name Change Form prior to the last day of the semester in which your degree will be certified.
---
Transcripts
Once the aforementioned email has been received from our Registrar, you are then welcome at this point to order your official transcript. DO NOT order your transcript until you have received the degree conferral confirmation email from the Registrar's office. If you order it too early, you may need to reorder your transcript once your degree has been posted officially. Save yourself time and money by being patient. It can take 4-6 weeks for your degree to be conferred.
MAC/MFT students, we know that you are needing your transcripts ASAP to apply for your Associate number. If you would like to check on the status of your degree conferral, you may direct your email to Lindsay McKinnon at This email address is being protected from spambots. You need JavaScript enabled to view it. six weeks after the final day of the semester in which you graduate.
Where do I order my transcript?
In your SIS account under the Student Records tab, then click "Transcripts on Demand."
Cost
Official electronic transcripts (highly recommended) are $5.00 each. Print transcripts are $5.00 each plus the cost of shipping chosen at the time of order. If you request your transcript to be rush processed, it will be an additional $15.00 per recipient.
Ordering Transcript Information
Odds & Ends
Honors
Many graduates are curious about whether or not they'll be graduating with honors. Honors are determined by your final grade point average (GPA). Your honors status will be noted in the program. For fall grads, this will be from your final term GPA. For spring grads, GPA will be contingent on when spring grades are posted. For summer grads, this will be noted from your final spring semester GPA.
| Rank | Final GPA |
| --- | --- |
| +Honors | 3.60 - 3.74 |
| ++High Honors | 3.75 - 3.89 |
| +++Highest Honors | 3.90 - 4.0 |
Photography
Commencement will be professionally photographed by PJ and Erica Oswald of Fits and Stops Photography. Group and individual photos will be taken during rehearsal, as well as a photo of you being hooded and shaking hands with President Randy Roberts as you receive your diploma.
All photos will be made available to you for free to download on the Fits and Stops Photography website. Prints available there for purchase. The direct photo link and password will be emailed to you from Student Services once the photos ready.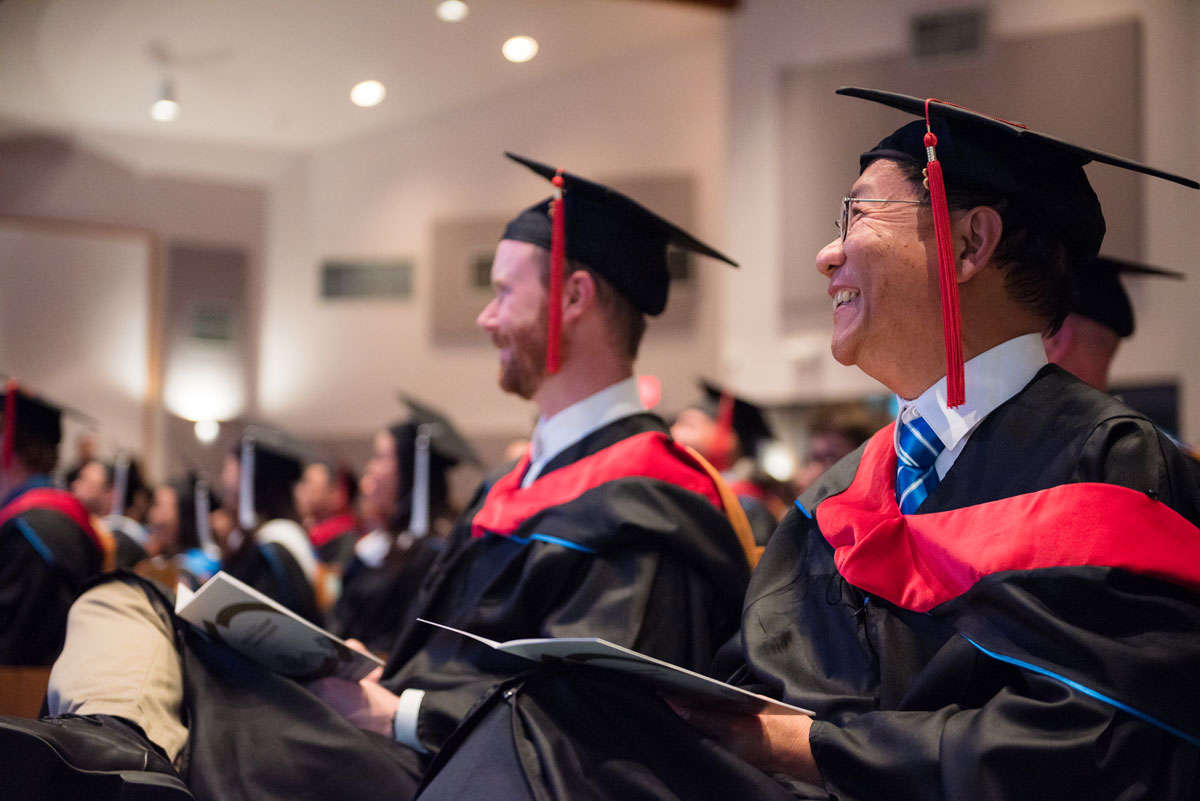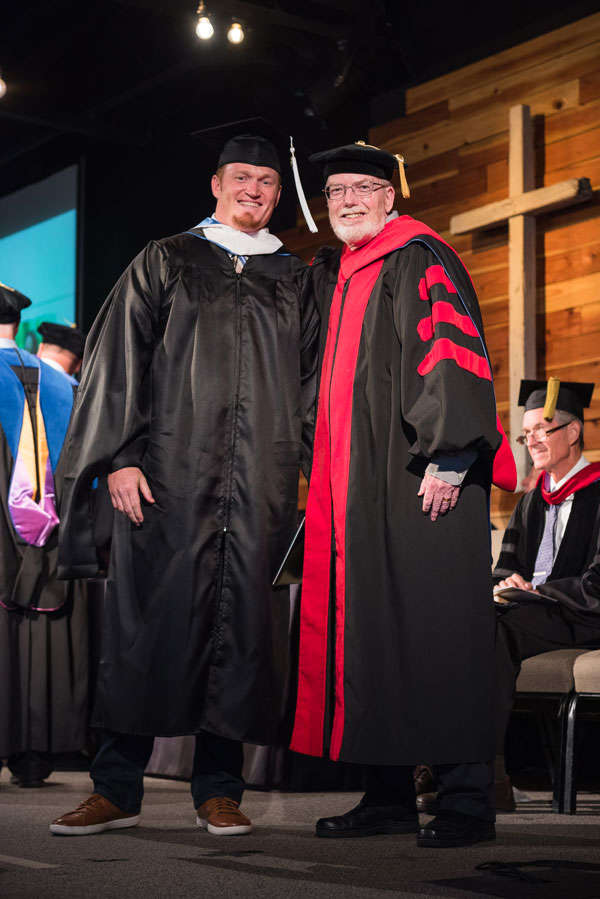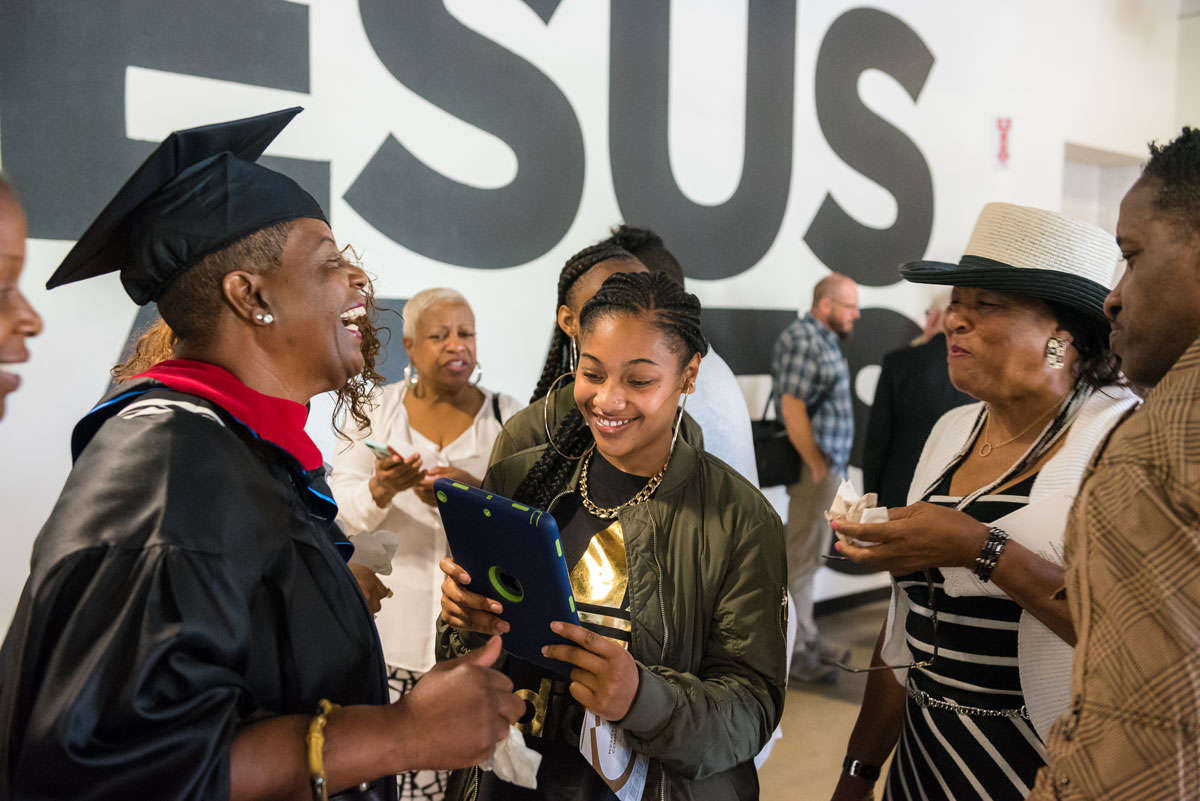 Alumni Relations: Your transition from student to graduate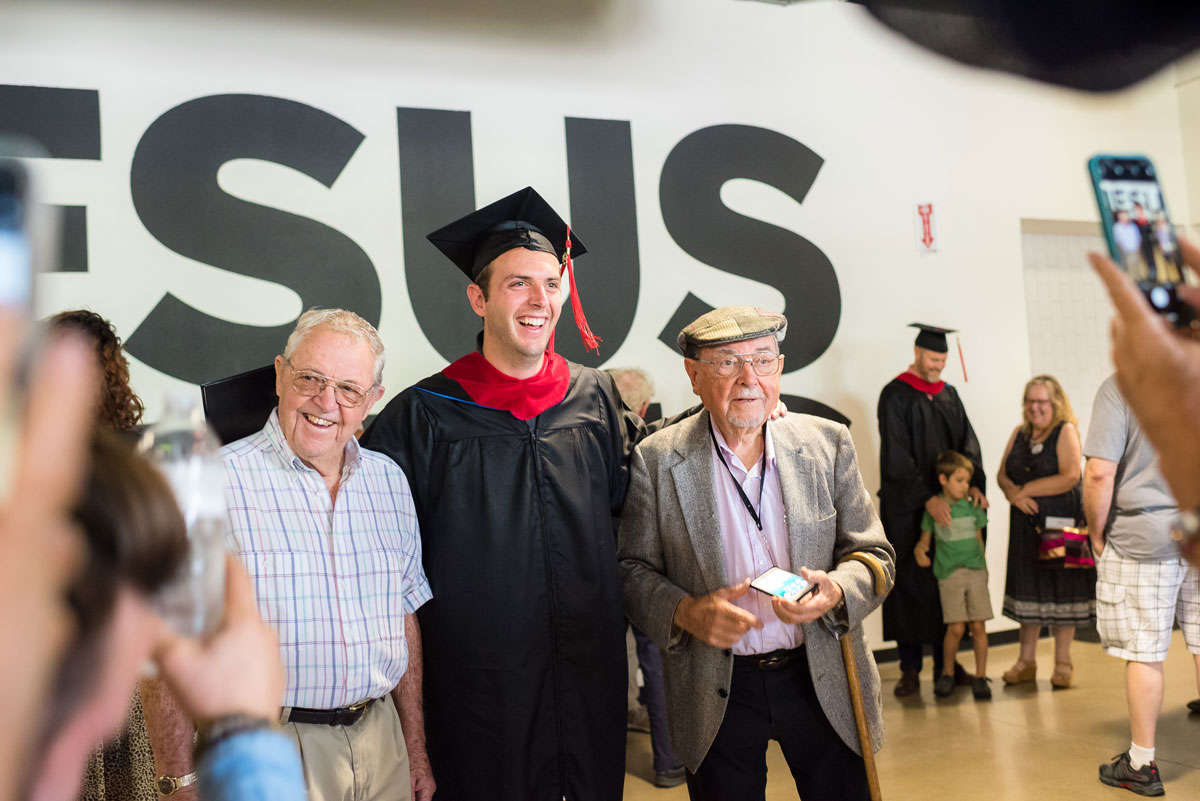 Job Searching
Looking for a job after graduation? Check out Western's placement page to browse job listings near and far. Also, our Portland-based Director of Placement, Greg Moon, would love to set up a meeting with you to talk.
Director of Student Development
This email address is being protected from spambots. You need JavaScript enabled to view it.
The Sacramento campus also has a physical job binder as well. Student Services can be a good resource to stay connected with as well for any known job openings, as local organizations frequently contact us with listings.
MAC/MFT's have you checked out https://prelicensed.com?
Free Alumni Audit
Did you know that as a Western grad you can audit ONE FREE CLASS PER YEAR at any physical campus location? Now you can take all of those electives you never had the time to do, homework free too! Keep your mind sharpened and be a lifetime learner. Submit the form below to the Financial Aid department at This email address is being protected from spambots. You need JavaScript enabled to view it. and register for your selected class through your SIS account.
Give
Trustworthy. Accessible. How has the gospel affected your life? What possibilities are waiting for someone to come along and make realities? See the ways that you can partner with Western Seminary to bring trustworthy, biblical training to a world in need.
Again, Congratulations!
And that's a wrap, folks! You are now equipped with everything you need to know about commencement weekend. Still have questions that weren't answered here? Flip through this one more time, and if you still haven't found the answer, contact:
Director of Student Services (Sacramento)
This email address is being protected from spambots. You need JavaScript enabled to view it.
Time to get excited, soon-to-be grads! We SO look forward to celebrating with you.
Don't forget to bookmark and complete the graduate questionnaire and submit your photo by Sunday, March 15th!
In order to complete this orientation, you must complete the quiz. You will then be led to a submission page which will alert Student Services that you have completed this orientation.
Graduate Orientation Quiz and Completion Confirmation