A Couple of Seminarians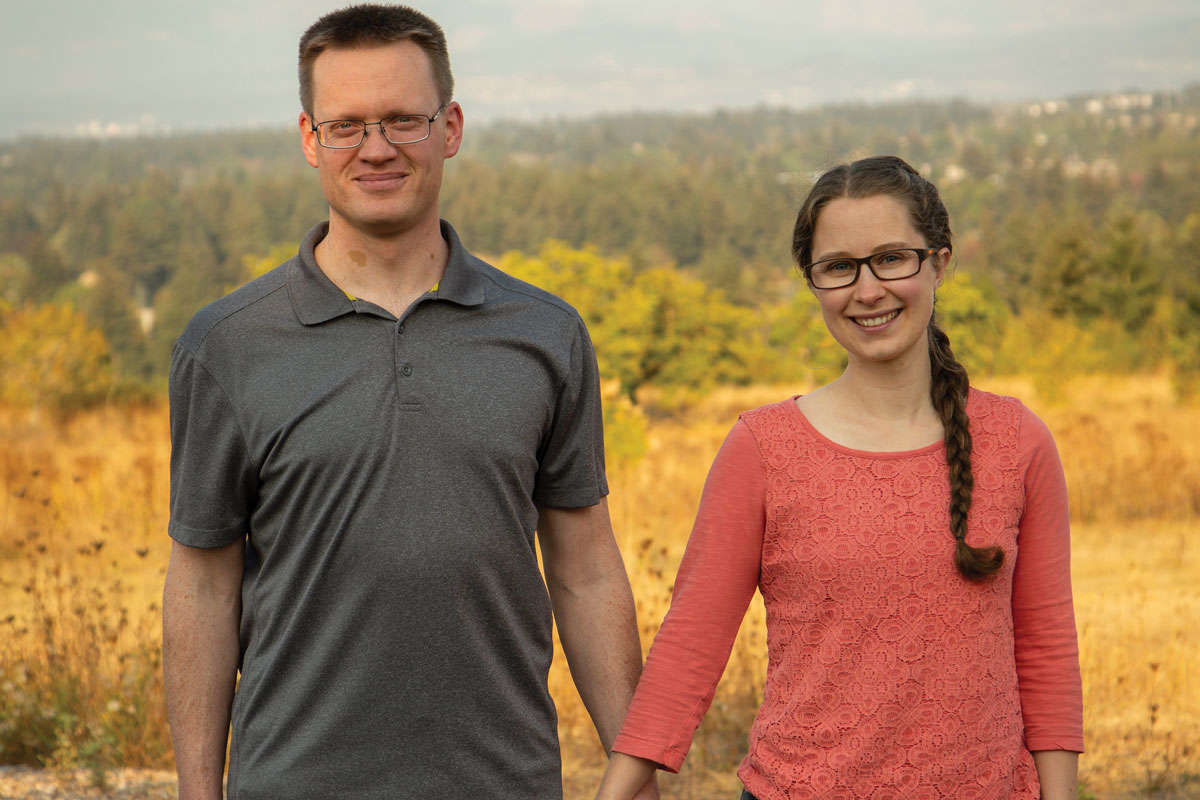 Students Ezra and Kyleigh Dunn share how their heart for ministry has led them both to Western
In the midst of a busy day of homeschooling her young children, Western Seminary student Kyleigh Dunn takes advantage of afternoon rest time to parse Hebrew verbs for her Hebrew grammar class. If she gets stuck, she knows she can ask her husband Ezra for help. Ezra is a recent graduate of the Master of Divinity (MDiv) program at Western and is now working on his Master of Theology (ThM).
"With Ezra being further along, I have an unfair advantage over other students, because I can just run things by him and process with him," admits Kyleigh with a grin. 
Ezra chuckles and adds, "Yeah, but now she is going to know more Hebrew than I do."
The Dunns moved to Portland 4 years ago so that Ezra could enroll in Western as a full-time student. He spent eight years on active duty in the Navy, often leading Bible studies on ships that were too small to warrant a chaplain. His spiritual mentors encouraged him to steward his gift for teaching by going to seminary.
"I wanted to immerse myself in the Bible and theology at a faithful school that would challenge me," he says.
He graduated in 2021 and last month became the lead pastor of Scholls Community Church in rural Hillsboro, Ore. He is also continuing his education in Western's ThM program.
Shortly after Ezra enrolled at Western, Kyleigh found out that spouses could audit courses for half price. She began auditing a class each semester and eventually earned her advanced studies certificate, a non-credit option for those without bachelor's degrees. But the more classes she attended, the hungrier she was to go deeper in her understanding of the Bible and theology.
"When I took biblical theology for one of my electives, everything changed," recalls Kyleigh. "That class really challenged me and was so theologically rewarding."
Without a bachelor's degree, Kyleigh assumed she had reached the end of what was possible at Western, until someone told her about the undergraduate degree exemption policy, which allows certain students to be admitted to master's degree programs without bachelor's degrees, as long as they meet other requirements.
The couple began seriously considering how feasible it would be for Kyleigh to enroll as a master's student. Around the same time, Ezra's mother volunteered to help with childcare and Kyleigh's grandparents offered to help pay for her tuition. So Kyleigh applied to the MA in Biblical and Theological Studies and was admitted last spring.
Kyleigh is motivated to earn her master's degree in part so that she can help mothers struggling with post-partum depression. She believes the storyline of Scripture explains a lot about the suffering women endure because of childbirth.
"Postpartum depression is something that I've been through, and I saw a gap in the church where we weren't talking about it," she says. "But the church should be one of the most important pieces of recovery. There are reasons for this suffering, but there is also hope."
She and Ezra agreed that having a master's degree would give her more tools and a platform for writing and sharing about this topic. She has already contributed to several blogs and has submitted a book proposal for consideration.
Ezra has been supportive of his wife's calling to minister to the church in this unique way. He is even doing his own research on the topic of childbirth. His ThM thesis is focused on how the birth images in Scripture are understood within Eve typology.
"It has kind of become this string the two of us having been pulling on this whole time," says Ezra. "Kyleigh is looking at birth pain and postpartum depression, and I've been looking at the typology in Scripture. It's something we have now had two years of conversations about."
In the meantime, the seminary couple will continue to balance the responsibilities of ministry and school as they parent and homeschool their young children.
"We may or may not be teaching Hebrew to our kids," says Ezra with a smile.