Certificate in Transformational Coaching New Student Guide
Welcome to Western Seminary! 
We exist to equip people like you who desire to make a difference, and we're excited to help you prepare for strategic kingdom impact. Please know that our staff and faculty are available to assist you each step of the way.
This New Student Guide has been designed to help orient newly-admitted students to campus life at Western. Please set aside about 15 minutes to carefully review it.  We believe that the information we have provided you throughout the guide is essential to your success at Western – which leads us to require that everyone read it before registering for classes.  If you have other questions or would like further assistance, please feel free to contact This email address is being protected from spambots. You need JavaScript enabled to view it..
Thank you.  And again, welcome!
Your Role as a Coach in Training
Student Designations
CTC participants are assigned to one of the following designations, according to your level of completed education and academic goals.  Designations are governed by Western Seminary's accrediting bodies and are related only to registration status.  There are no distinctions between participants in the classroom; all coaches are invited to participate at the same level.  It is important to know your designation in order to properly register for your classes.
Enrichment: Individuals who have completed a high school diploma or GED are invited to register as enrichment participants.
Audit: Individuals who have completed a bachelor's degree may register in courses as audit participants.  

Please note: Both enrichment and audit participants attend and participate in courses and complete five hours of required reading per course.  Neither enrichment nor audit participants are required to complete other assignments included on the course syllabus, nor will they receive letter grades.

Credit students: Individuals who have completed a bachelor's degree may apply for the CTC for credit by completing the online application.  Credit students are required to complete additional coursework for each class, and will be awarded a letter grade.  Courses completed for credit may be applied to a graduate degree at a future time.
Connecting with Western
Certificate in Transformational Coaching & Student Handbooks
Our Student Handbook includes all of the important policies and procedures that relate to student life at Western -- from academic information, to guidelines for conduct and character, to special student programs and benefits.  It's available online and we ask that you familiarize yourself with its contents.  In addition to providing you with helpful information and resources, the Handbook serves as a contract between you and the school.
We have also prepared a specific Certificate in Tranformational Coaching Handbook, with everything you need to know to successfully complete your program.  It is also available online, and we ask that you familiarize yourself with it before registering.  If you have questions about the handbook, we invite you to contact the This email address is being protected from spambots. You need JavaScript enabled to view it..
Email Communication
Our primary means of communicating with you will be via email – confirming your registration in a class, letting you know about a course schedule change or responding to Financial and Academic petitions. Please plan to check your account often. If you change your email address while attending Western, please let us know right away. You will be able to update your contact information through the Student Information System (SIS). If you don't have an email address and need help creating an account, let us know and we'll be happy to help.
Student Services Forms
You may wish to complete and submit either or both of the following:
Wireless Internet Access  You're invited to use our secure wireless internet network.  We will provide you with the student password upon receipt of your Student Wireless Agreement, which explains our internet access policy and indicates your commitment to operate within our user guidelines.
Authorization to Release Information  To protect your privacy, we will never release information about your grades, registration, or student account balance without your advance written permission.  If you anticipate that a spouse, employer, or other party may have a legitimate interest in your student records during the course of your studies, please submit this form so that we can work with them accordingly.
Selecting Classes
CTC Curriculum: Phase I, Training and Supervision
As you may recall, MCS 510 Introduction to Coaching serves as the gateway course, and is a prerequisite to all other coaching classes at Western Seminary.  Once you have successfully completed MCS 510, you are welcome to register for seven courses from the following eight coaching classes (may be completed in any order):
MCS 511 Coaching for Change (required for all CTC participants)
MCS 512 Life and Personal Coaching
MCS 513 Coaching Approach to Leading and Managing
MCS 514 Coaching in Congregations for Spiritual Development
MCS 515 Coaching and a Brain-Based Approach to Learning
MCS 516 Using Assessments, Inventories and Tools in Coaching
MCS 517 The Language of Coaching
MCS 518 Growing Your Coaching Practice
CTC participants will also be able to register for MCS 519 Coaching Supervision once you have completed MCS 510 and two other MCS courses.  If you are a credit student, you will register for MCS 531.  Michelle Workman can help you select the right course.
Please note, once you have completed Phase I training, please refer to your CTC Handbook for information regarding Phase II certification.
Course Schedules
Course schedules are posted on our website and updated on a regular basis.  CTC participants may choose to complete all of their courses on the same campus, or to travel to our Portland, San Jose and Sacramento campus locations. Syllabi and course material are identical across campus locations.  Course schedules are subject to change, and regularly updated on our website.  Coaching classes are also listed by the "MCS" prefix, and courses are ordered alphabetically on each campus schedule. Schedules are posted by campus on our website for Portland, San Jose and Sacramento.  You may also refer to the Training Schedule with an overview of all upcoming Western Seminary coaching classes.
Registering for Classes
How to Register through the Student Information System
What can I do through the Student Information System (SIS) online?
Update your personal information in our records 
Pay tuition 
Add and drop classes (for credit and audit only; enrichment will use a paper registration as explained in the CTC handbook)
Check grades (for credit students only)
To access SIS, go to our website and click on the link at the top right-hand corner. If you don't have an account with Western Seminary, click on the button to create one. Otherwise login. Most students create an account the first time when they start an online application. Make sure to use the email address that we have on file for you.
To register for classes, click on "Registration." Select the campus location at which the class is offered, then the semester in which you hope to take classes, and finally the type of class you want to take, credit or audit. (Please note: MCS 519 and MCS 531-534 are offered through the Online Campus.) Click on the "View" button to see the class schedule. Take a moment to read through the notice regarding add and drop fees and requesting registration changes.  Then click on "I Have Read the Above" to proceed to registration.
Courses are listed in alphabetical order by the course ID. Click on "ADD TO CART" to add the course to your cart. This doesn't mean that you are registered just yet. At the top is a button that allows you to "REVIEW" your cart. When you are finished selected  your courses, you can review your cart and submit for approval.
If you have any questions or would like additional assistance, please feel free to contact This email address is being protected from spambots. You need JavaScript enabled to view it..
Please note, if you would like to audit a non-coaching course, please login in to SIS and click on "Registration".
Before Classes Start
Course Syllabi
Once you've registered for classes, please download and review the course syllabi for each of your classes.  Some of our courses will require that you have already read material or completed initial coursework before the first day of class.
PORTLAND CAMPUS SYLLABISAN JOSE CAMPUS SYLLABISACRAMENTO CAMPUS SYLLABI
Books
You can find required textbooks on your course syllabi. We recommend that you purchase your books online. Websites like Amazon.com often enable you to purchase your books at discounted rates.
Paying Tuition
Credit tuition is due in full the first week of the official semester, regardless of when your class meets.  Audit and Enrichment participants are required to pay in full at the time of registration. 
You are welcome to pay tuition online through our Student Information System, or by mailing a check to the Business Office care of Western Seminary Portland Campus, 5511 SE Hawthorne Blvd., Portland, Oregon 97215.  Please feel free to contact the This email address is being protected from spambots. You need JavaScript enabled to view it.to discuss your balance, make a payment or ask questions related to tuition.
Campus Life
Portland Campus
Travel and Lodging
Coaching students who travel to Portland for classes have several options for lodging near Western Seminary's campus.  The Ramada Inn at Mall 205 has often offered our students a discounted rate on accommodations; you can indicate that you are a Western Seminary student in order to take advantage of the special price.  There are also several hotels located close to Portland International Airport. We also recommend The Worldview Center, which offers a low-cost housing option with meals located within walking distance of the seminary. The Worldview Center is home to international students and those studying to minister cross culturally. They offer modest rooms and breakfast for a low rate.  
All of these neighborhoods are considered well-traveled and safe, however, what one person considers acceptable in terms of lodging, location and area establishments may differ so we encourage you to do your own research and find the best fit for you. 
Parking
Our campus is easily accessible by bicycle, bus and automobile. If you choose to drive to Western Seminary, you will not need a parking permit to use the parking lots. You are welcome to park in the paved parking lots on the north and east sides of the campus. As a courtesy to our neighbors, we ask students not to park on the north side of Madison Street or the east side of 57th Avenue. For the safety of your belongings, we recommend that you do not leave your car in the parking lots overnight.
Student Center and Café
Western Seminary's Student Center and café are located in the chapel basement. The Student Center is designed as a space for you to enjoy meals, study, access our wireless internet network or visit with friends.  Our café provides hot meals on select days throughout the week. Additionally, there are deli-style sandwiches, snacks, chips, fruit and microwaveable entrees available for purchase. You can purchase food from the café by paying in cash.  Many students bring their lunch or dinner and keep it in the student refrigerator/freezer found in the Student Center.  Microwaves are also available for use.
Cline-Tunnell Library
Our library belongs to a consortium of five Christian college and seminary libraries which have merged their holdings into one online database, giving you access to more than 93,000 volumes and nearly 230 theological journal subscriptions. We have valuable resources on the Bible, theology, counseling, and a selection of entertaining fiction as well. The library is open Monday, Tuesday and Thursday from 7:45 a.m. to 6 p.m.; Wednesday and Friday from 7:45 a.m. to 5 p.m.; and Saturday from 10 a.m. to 2 p.m.
Campus Safety and Security
Western has an on-campus caretaker, Chris Smith, who is available to assist students 24 hours a day. If you would like an escort to your car after an evening class, if your car battery dies and you need a jump start, or if you feel your safety is threatened in any way, please call Chris at 503.720.0635. We also invite you to contact Physical Plant Director Cliff Stein any time safety or security is a concern, at 503.459.9676.
San Jose Campus
Parking
Students travel to campus by foot, bicycle, CalTrain, bus, or car.  If you drive to Western, please note that we share a parking lot with a number of businesses.  Out of respect for our neighbors, please park only in the areas designated for Western Seminary. 
Campus Hours / Building Hours
The official business hours for Western Seminary are 10 a.m. to 6 p.m., Monday through Friday.  Additionally, the campus is open whenever classes are in session.
Key Cards
Our campus is located within a commercial building shared with other businesses, so please be aware that the front doors to the building at 469 El Camino Real will be locked from 6 p.m. to 7 a.m. Monday through Friday, as well as all weekend. To gain access to the building, you will need a key card.  Key cards are available for a small fee through our San Jose Student Services staff.
Library Hours
The Library is open Monday through Friday 10 a.m. to 6 p.m. and whenever weeknight classes are in session, as well as on Saturdays until 6 p.m.  Sharon Ho, the San Jose Campus Librarian, is available most Tuesday evenings, and Saturdays 9 a.m. to 4 p.m.  The Western Seminary Library invites students to bring food and experience fellowship as you study!
Sacramento Campus
Hours
The official business hours are 10 a.m. to 6 p.m., however staff are typically here around 9 a.m. and leave after 6 p.m.  Please call or email to ensure someone is here outside of those hours.
Resource and Student Center
Western Seminary's Resource and Student Center is located in the heart of our campus.  This area is a comfortable place where you can eat your meals, study, grab a snack, check your email on the computers, check out a library book, get help from the librarian or visit with fellow students.  Printers/copiers are also accessible.  (Files in .pdf format are printable from USB drives plugged directly into the copier machines.) The campus, including Resource and Student Center, is open M-F 10am-6pm and the nights and Saturdays when classes are being held. Visit the Library page for that schedule.
We hope that everything you need can be found inside the campus.  There is a snack bar with coffee, soda, water, juice and other drinks for a minimal charge.  There is also candy, cookies, chips and other food items available.  Many students bring their lunch or dinner and keep it in the student refrigerator/freezer found in the Student Center.  A microwave is also available for use in the kitchenette, along with two sinks.
Campus Map
In addition to the Center, Sacramento Campus has three classrooms, a kitchennette, five offices and two bathrooms.  Below is a map for you to view if you haven't yet visited the campus.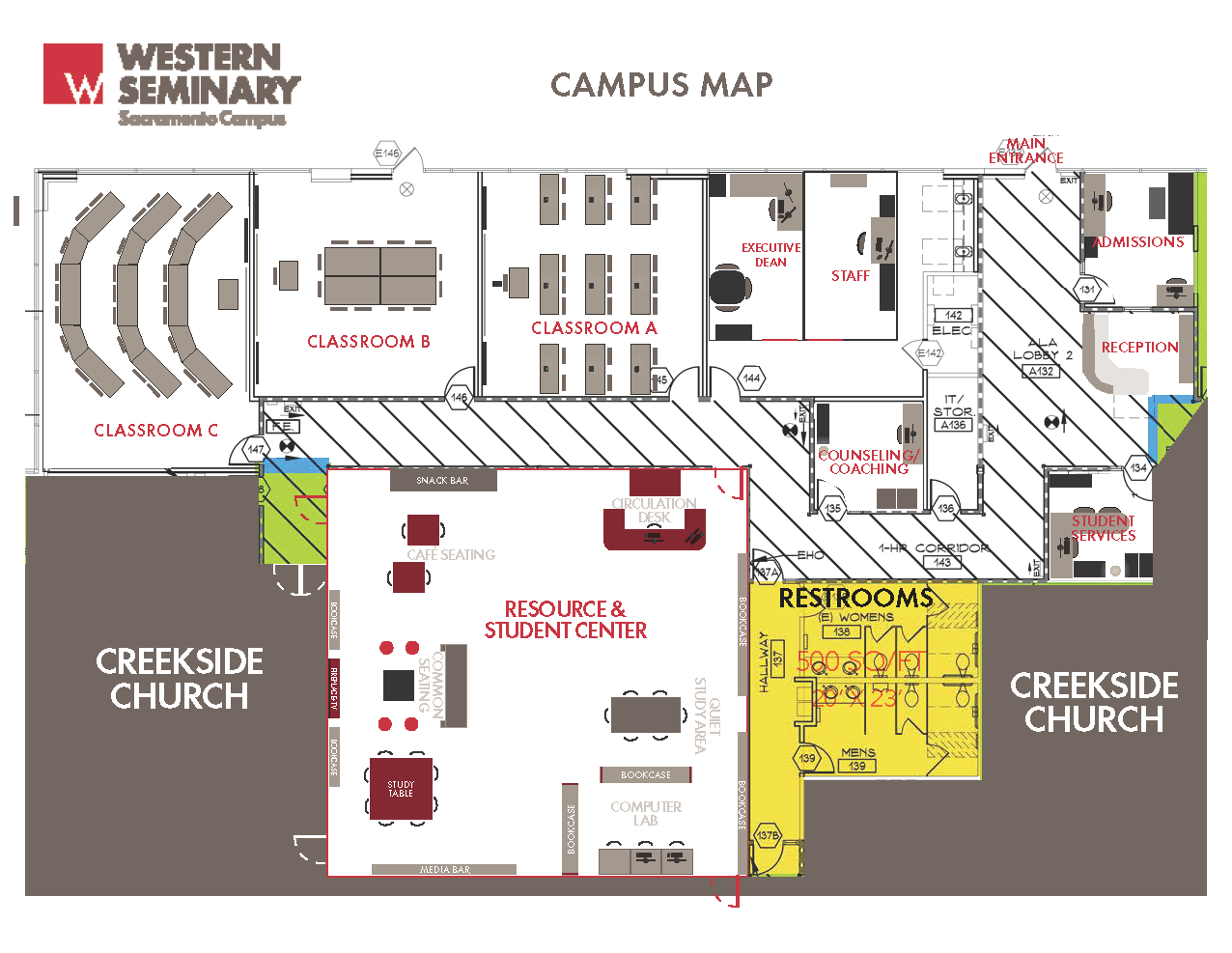 Off Campus
There are numerous places to eat and shop within 2 miles of campus. It may look somewhat barren, but we are actually located in one of the biggest shopping hubs in the Sacramento region.
Parking
There are numerous parking spots on the North side of the building.  Students are permitted to park in any of those available spots. Even though it is a tucked-away area, please be sure you keep all valuables out of view and be sure to lock your cars.  Please also be alert to various animals, including coyotes and rattlesnakes.  
Relocating or Traveling to Campus
If you are moving or traveling at a distance to Sacramento in order to attend Western Seminary, we desire to help you as much as possible. Our Lodging Page has some information that we try to update as it changes, but please contact This email address is being protected from spambots. You need JavaScript enabled to view it.  in Student Services for more information.
Our Staff: We're Here to Help You
Now that we've provided you with a general overview of seminary life, we invite you to contact us directly to answer additional questions or provide further assistance.  For questions related to the Certificate in Transformational Coaching, please connect with Michelle Workman.  For general class or campus questions, please feel free to ask your local coaching coordinator for assistance. 
Ben Olsen, Portland Campus Coaching Coordinator
This email address is being protected from spambots. You need JavaScript enabled to view it.

 or 503.517.1910
Jessica Clark, San Jose Campus Coaching Coordinator
This email address is being protected from spambots. You need JavaScript enabled to view it.

  or 503.517.1909
Sherri Thome, Sacramento Campus Coaching Coordinator
This email address is being protected from spambots. You need JavaScript enabled to view it.

 or 916.205.1619 
Conclusion
Thank you for completing our New Student Guide!