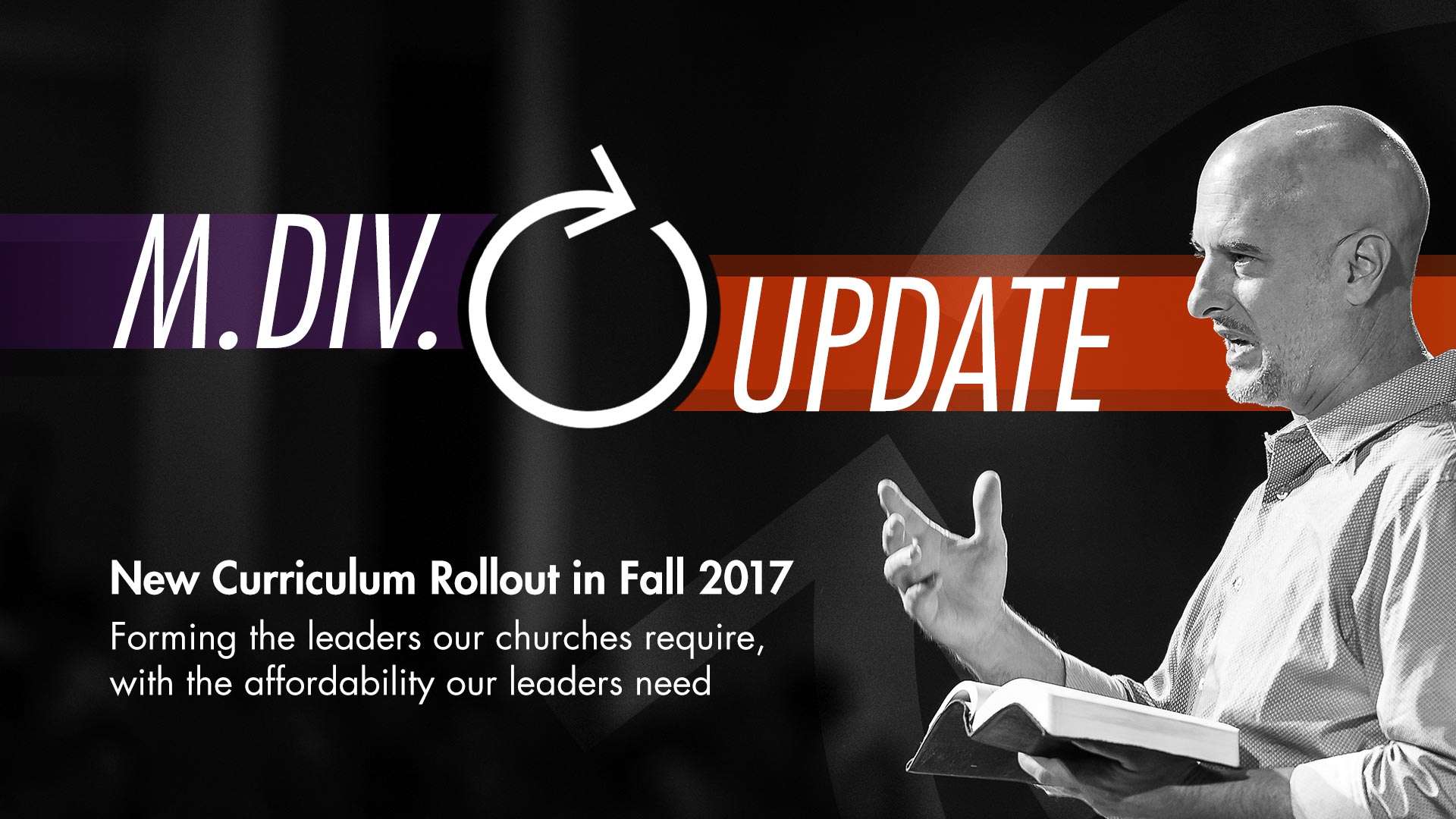 A timely update to our Master of Divinity
That smartphone in your hand is one powerful device. Each time an update rolls out, your phone gains new capabilities—growing more efficient—so it can serve you further into the future. Now ministerial training at Western Seminary is getting an update as we refresh the curriculum of our signature ministry training program in Fall 2017.
Western Seminary's updated 82-credit Master of Divinity (MDiv) degree prepares you for a lifetime of ministry in Jesus' name. It pairs a gospel-centered understanding of the Scriptures with tools for lasting ministry impact, so that you can serve in light of the cultural challenges each new decade brings. This streamlined curriculum also reduces tuition costs and time spent in training. Bottom line? We're decreasing the length of the program while increasing the quality of training, so you and those you serve experience even greater benefit.
MORE INFO FOR CURRENT STUDENTS
| | | |
| --- | --- | --- |
| New MDiv course curriculum, fine-tuned for your future in vocational ministry | Grasp and communicate the gospel story that connects each book of the Bible | Ministry Leadership Formation shapes theory into practice in local churches/ministries |
| | | |
| --- | --- | --- |
| Demonstrate your readiness to lead in real-world ministry during the Candidacy sequence | Reduced program length saves you $5000 in tuition and 1-2 semesters in training | Flexibility to train on campus or online so you can learn without leaving your ministry context |
Our churches are at their best when leaders hold to timeless theological convictions: beliefs and attitudes built upon an unchanging God and the gospel He delivered. Yet they're in for a messy collision if they don't integrate their beliefs with effective ministry practice. And there's the threat of burnout for those whose approaches to ministry aren't geared for the challenge of daily cultural flux. In other words, seminaries have a critical role to play in shaping Christian leaders who last.
Every decade challenges church leaders to respond to new realities. The growing gap between Church and culture, mediocrity in ministry, and a waning relevance of the Church demands leaders who can reverse those trends. So Western is again refining its approach to training. That process started with our faculty asking a powerful question: "How do we redefine our MDiv so our graduates endure in ministry over the next forty years of flux?" They asked a second one as well: "How do we keep the costs of training from hindering these leaders?"
The faculty first wrestled with these questions themselves. More importantly, they took the questions before focus groups of current students and graduates, as well as local ministry leaders. They were encouraged to hear a call for uncompromised quality combined with careful and creative streamlining, rather than adding more ministry courses or shortening programs. In light of the high stakes of Christian ministry, they urged faculty not to take any shortcuts.
With their newfound lessons in mind, faculty set to work on our MDiv, crafting it into the refined form you see on this page.
---
Designers of the New MDiv Curriculum
Dr. Rob Wiggins

VP for Academic Affairs

 

Dr. Jeff Louie

Director of Leadership Development, Associate Professor of Theology

 

Dr. Ron Marrs

Program Director, M.A. in Ministry and Leadership, Professor of Youth and Pastoral Ministry


 
Dr. John Johnson

MDiv Program Director, Associate Professor of Pastoral Theology and Leadership

 

Dr. Patrick Schreiner

Program Director, M.A. (Biblical and Theological Studies), Assistant Professor of New Testament Language and Literature

 

Dr. Gerry Breshears

Professor of Systematic Theology

 
Our commitment to excellence has not changed over the years. We've streamlined the MDiv curriculum from 90 to 82 credits by eliminating areas of content repetition, while some studies have moved into more appropriate places—like building Bible interpretation directly into Bible survey classes. We've added entirely new courses, and ministry praxis courses have changed shape to reduce expense and duration, especially if you are already serving in ministry. And all 12 credits of elective space remain untouched so you can specialize your training as you see fit.
Master of Divinity - Open Track
Foundational Studies
| | | |
| --- | --- | --- |
| Course ID | Course Title | Credits |
| MF501 | Introduction to Theological Study and Ministry Formation | 2 |
| BT501 | Hermeneutics | 2 |
| BT502 | Understanding Biblical Theology | 2 |
| CS501 | Loving God and Others | 2 |
| CS502 | Growing in Prayer and Other Key Spiritual Disciplines | 2 |
Biblical Studies
BL501
Interpreting Genesis to Song of Solomon
4
BL502
Interpreting Prophets to Gospels
4
BL503
Interpreting Acts to Revelation
4
NT501/511
Greek Grammar (Using Bible Software or Traditional)
3
NT502/512
Greek Reading and Syntax (Using Bible Software or Traditional)
3
OT501/511
Hebrew Grammar (Using Bible Software or Traditional)
3
OT502/512
Hebrew Reading and Syntax (Using Bible Software or Traditional)
3

NT or

OT or

BL Elective

Your choice of Greek exegesis, Hebrew exegesis or biblical studies elective
2
Theological Studies
| | | |
| --- | --- | --- |
| TH501 | Knowing the Living God: Theology I | 4 |
| TH502 | Glorifying the Word of Life: Theology II | 4 |
| TH503 | Living in the Community of the Spirit: Theology III | 4 |
| TH504 | Integrating Ministry and Theology | 2 |
| CH501 | Wisdom from Church History | 4 |
Ministerial Studies
| | | |
| --- | --- | --- |
| ML501 | Theology and Practice of Gospel-Centered Ministry | 2 |
| ML502 | Transformational Leadership | 2 |
| ML503 | Nurturing Faithful Disciples | 2 |
| ML504 | Taking the Gospel to Diverse Cultures | 2 |
| ML505 | Applied Pastoral Counseling: Caring for People in a Broken World | 2 |
| ML506 | Ministerial Ethics | 2 |
| ML507 | Gospel Responses to Contemporary Challenges | 2 |
| ML508 | Preaching Gospel-Centered Messages | 2 |
| MF531-532 | Ministry Formation (Pass/no pass graded, non-credit courses) | 0 |
| MF533-534 | Ministry Formation (Pass/no pass graded, non-credit courses) | 0 |
Open Electives
| | | |
| --- | --- | --- |
| BL, ML, NT, OT, TH | Elective courses from disciplines that support your ministry calling | 12 |
Total: 82 Credits
New Specialization Options Include:
Chaplaincy Track
Coaching Track
Exegetical Track
Global Leadership Track
Open Track
Pastoral Track
Women's Pastoral Leadership Track
EMPHASIZING BIBLICAL THEOLOGY
As they set to work on drafting udpated curriculum for the MDiv program, the faculty acknowledged a sobering trend: an increasing number of new students come to seminary missing an understanding of the cover-to-cover narrative of the Bible. This trend reinforces what has been called an epidemic of "biblical illiteracy" in the Church, which we've covered extensively in a recent issue of Western Magazine. Ignorance of Scripture turns into ignorance of God's character and His mission, and causes us to act in ways that subvert or counter His leading.
In an effort to grow biblical literacy in our students and in the congregations they serve, we've added the course Understanding Biblical Theology to the program while also injecting a biblical theology emphasis into our three core Bible survey courses.
Think about biblical theology this way: One divine author (God) worked through diverse human authors to write the inspired texts of Scripture that progressively and collectively reveal a unified and cohesive story. Biblical theology then seeks out the unique contribution that each book of the Bible, Old Testament and New, makes to this overarching narrative of creation, fall, redemption, and restoration. Each genre and subplot points to and culminates in Christ. When you learn how these individual parts are woven into a cohesive whole, it forms a framework for gospel-centrality. This framework not only changes the way you read scripture and relate to God personally, but also transforms the way you see the world and your place in it as a minister of the gospel. And speaking of ministry...
IN CLASS + IN MINISTRY INTEGRATION
When it comes to forming leaders who thrive, we'll do what we do best and let the Church do what it does best. That means we'll bring the classroom while the Church brings the laboratory.
Our former Mentored Field Ministry experience has become the Ministry Formation sequence. In this process, you'll form a mentoring team within your own ministry setting, while also joining Ministry Formation groups that work through case studies formed from students' greatest challenges in serving. What used to require four semesters of real-world ministry work has now become variable in length, based on your history of ministry experience. This is particularly helpful if you are already serving in ministry and may not need as much time to gain experience.
The Candidacy Process

The Church has no need of leaders who got good grades in seminary but aren't ready for vocational ministry. To that end, MDiv students must achieve what we call Degree Candidacy before they can graduate. This process requires you to submit a portfolio of ministry experiences after completing half of your studies, combined with an assessment by your mentoring team as well as select faculty. Only if you advance to candidacy and complete all your courses can you graduate with our promise of ministry readiness.
We've always focused on learning for the sake of doing. Think of this update as our next-generation renewal of that commitment to integration.
EXTENDING IMPACT TO OTHER DEGREE PROGRAMS
While the Master of Divinity is the cornerstone of pastoral preparation, several other degree programs at Western Seminary offer right-sized education for other strategic church-based or parachurch ministry roles. The M.A. (Biblical and Theological Studies) and the M.A. in Ministry and Leadership each share a curricular core with our updated MDiv, and so as we roll out improvements to that program, the same benefits of reduced cost and time in training spread to the other programs as well.
The M.A. in Global Leadership also benefits from the updated content of the many courses it shares with the MDiv program, though the total number of credits required to complete that program are not reduced.

56 Credits

An academic degree focused on studies of the Bible, theology, original languages and Church history. It's perfect for budding theologians, educators, or experienced ministry leaders, and also paves the way for success in advanced graduate studies.

52 credits

A professional degree combining Bible, theology, ministry skill, and ministry leadership formation. This is designed for pastors, associate pastors, and parachurch ministry leaders who need specialized tools for a particular ministry focus.

48 credits

A professional degree that blends Bible, theology, practical ministry skills, and in-the-field experience. It is a highly-customizable learning experience designed for those serving in business or missions outside the North American context.
SAVING YOU TIME AND MONEY
For all the rewards and joys of vocational Christian ministry, there are plenty of financial challenges as well. This update to the MDiv program helps to ensure that the benefits of pastoral training far outweigh (and outlast) its costs. By reducing the total credit count of the MDiv to 82 credits, you'll save an estimated $5000 in tuition, books, and fees. You'll also spend an average of 1-2 fewer semesters in training, depending upon the number of courses you take each term. And you'll have the option to purchase a customized Logos Bible Software package at a tremendous discount, so you have the greatest Bible study tools at your disposal, long after graduation.
No matter which of three updated degree programs you enroll in, you'll benefit from the same savings.
---
"Classical pastoral wisdom for contemporary ministry has been our mantra. Doing this with excellence requires that we deliver it in the most effective and efficient way. I believe our re-tooled MDiv accomplishes this."
Dr. John Johnson
MDiv Program Director, Associate Professor of Pastoral Theology and Leadership
ON CAMPUS OR ONLINE? YES.
Tying seminary training to ministry practice means we've got to deliver theological education in ways and places that let students learn without leaving their ministry context behind. The MDiv—as well as the MA(BTS) and MA/ML—are each available through our Online Campus, as well as on campus in Portland, San Jose, and Sacramento. Many courses for each degree can also be completed at our Seattle Teaching Site. If you prefer to blend online and on campus studies, our Hybrid courses bring together the best of both worlds.
Our obsession with accessibility in training makes seminary possible for students all around the world, in places like these:
(Map markers indicate postal codes, not exact addresses)
When can I apply for admission to the updated MDiv or other redesigned programs?
The fall 2017 semester is the first term in which you can enroll in the updated degree programs. You can apply for admission now.
Current students can explore changing over to the new curriculum in Fall 2017 as well. Read on for more details...
Can I receive credit for previous studies I've done in Bible and theology?
Sure. We offer advanced standing credits for previous coursework on appropriate subjects upon completion of an examination for new and first semester students. We also accept transfer credits from other seminaries or graduate schools when they meet our program requirements. Levaraging your previous work is another way to save time and money in training. 
Get more info about advanced standing and transfer credits.
If I'm already a student, will I complete my current curriculum or the updated?
That depends on when you plan to graduate. If you graduate prior to fall 2017, you'll complete the original, current curriculum. If you plan to graduate during or after the fall 2017 semester, you may continue in your original curriculum, or switch to the updated version. We encourage you to meet with your advisor and review what makes sense for you.
Will courses I've already taken still have a place in the updated programs?
Yes. Most every course you've completed will have an equivalent course within the new curriculum, even if the course titles have changed. We have prepared course conversion charts to help our staff and students see how old courses fit within new degree framework. Check in with your advisor for help in this process.
How will these changes benefit me (even if I'm not enrolled in any of these three programs)?
We have been evaluating our curriculum and degree programs in order to improve our core content and focus our training to save you money and time—without losing quality. Whether you're enrolled in one of the three updated programs or not, you'll likely notice changes. For starters, our course ID numbers are changing beginning in the 2017-2018 school year. These numbers are more intuitive and give a student indication of when it's best to take a class. For example, the 501 classes are best to take in your first year of coursework. You'll also find that some of the courses will have new titles, as those courses are part of the updated curriculum for these programs. We encourage you to connect with your advisor for help in seeing what the new equivalents of current courses are.
I have enough credits to graduate with the updated curriculum. Can I graduate now?
Nope. You'll need to wait until we've officially changed over to the revised curriculum in fall 2017. At that point, you're welcome to apply to graduate. Keep in mind that there are some new program requirements to fulfill, which you may not have earned in the former curriculum. As an example, each degree has minimum credit requirements in key subject areas such as biblical, theological, and ministerial studies. You'll want to complete a program audit to ensure that moving to the new curriculum is the best idea for you.
Are the updated programs accessible online as well as on campus?
What are these zero-credit Ministry Leadership Formation courses?
Ministry Formation (MF531-534) are non-credit courses that you must complete prior to graduation as part of the Degree Candidacy assessment process in the revised MDiv and MA/ML programs. While you will not pay tuition for these courses, you'll complete course requirements, and you'll be charged a fee (significantly less than the typical per credit tuition cost) to fund the instruction and administration of the course.
We recognize that our students come from a variety of backgrounds and have varying levels of ministry experience. Candidacy has the objectives of evaluating where a student's current level of ministry formation stands, as well as developing ministry potential. For this reason, it may take one student one or two terms of candidacy and another student three or four. It is personal and practical to a student's needs and ministry context. Ministry Formation courses focus less on theory and classroom experience and are evaluated using a rubric of our program's gospel-centered outcomes of character, conviction, and competency. Our goal is to partner with you so that you are a fully formed and trained for gospel-centered ministry.
 MORE INFO FOR CURRENT STUDENTS
As you can see, we've made some major updates in how we prepare you for the work of ministry. If these changes make seminary training a greater asset for you, fill out the form below. You'll get more information about our learning community and the support you need to discern if Western Seminary is a part of your future in ministry.