Certificate in Transformational Coaching (CTC)

This robust program prepares you to coach at the highest level.  With over 160 hours of coach specific training, supervised coaching, mentoring, feedback, and a final assessment, CTC coaches not only know about coaching, but are competent and ready to coach others in a wide range of contexts.  This program is appropriate for individuals in ministry and marketplace settings.
Note: Only participants who pass the Phase II assessment earn the designation Certified Transformational Coach. Since this program is an Approved Coach Training Program (ACTP) with the International Coach Federation (ICF), CTC graduates are highly prepared for the credential application with the ICF and may apply using the ACTP application pathway.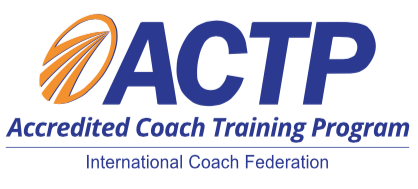 The Certificate in Transformational Coaching can be completed in as little as four semesters (approximately 16 months) and includes training, supervision and certification:
Phase I: TRAINING/SUPERVISION
Intro to Coaching (CO500 - formerly MCS 510)
Coaching for Change, Transition and Transformation (CO501 - formerly MCS 511)
Any six other coach training courses (CO502-508 - formerly MCS 512 – 518)
Coaching Supervision (CO530 - formerly MCS 519)
(Tuition at the audit rate as of fall 2018 is $505 per course, which totals $4,545 for all training and supervision. These costs reflect Western Seminary audit rates for coach training. The credit rate is $585 per course, or $5,265 total. Most students will register as audit/enrichment participants; students pursuing an academic degree or diploma should take the courses for credit. Additional expense:  At least 7 of the classes will also require feedback coaching, contracted directly via feedback coach for $35 for each review, for $245 total. Purchasing books is required expense for credit students and optional for auditors, however we think they will benefit your learning! Book retails prices listed in syllabus for each class. )
Phase II: CERTIFICATION
6 observed coaching sessions with written feedback from a PCC or MCC coach
A final assessment that consists of submitting two recordings which are reviewed for PCC level coaching
(Certification Fee as of fall 2018 is $2,000)*
Total Costs
Audit rate and certification fee for the Certificate in Transformational Coaching is $6,545.
Credit rate for the Certificate in Transformational Coaching is $7,265.
See the CTC Handbook for specific program details. Our rates are per school year and may increase. Rates are posted in July each year.
Refunds
Yes! In many cases, we are able to extend refunds on the CTC Program. Please read the CTC Handbook  for specific refund guidelines. Refunds on training courses follow Western Seminary Student Handbook guidelines. Once a class has been taken, no refund for that specific class may be given. Check with char Rose at This email address is being protected from spambots. You need JavaScript enabled to view it. for specific details.
Fees
Optional assessment exam retake fee of $500.
*Rates are for the 2018-2019 school year. Increases may occur once a year in the Fall and apply to all participants. Being a part of the CTC program does not lock in rates.
Applying
Ready to apply for the CTC? Use the CTC Application Form.  Once you've been accepted, we'll send you information regarding how to register for classes.
We encourage you to turn in the CTC application at least 4 weeks before your first class. (Credit students need to apply by the deadlines listed on the Western Seminary enrollment page.)
If you want to AUDIT the Introduction to Coaching (CO500) before applying for the CTC login to SIS and click on "Registration".
Registration need to be added thru S.I.S. at least 1 week before class. (Although we recommend sooner to make sure that there's a seat for you!)
Questions? 
Please direct all questions regarding the CTC to Laura Miltenberger (She's our Coaching Program Assistant / CTC Coordinator) at This email address is being protected from spambots. You need JavaScript enabled to view it. or 503.517.1828.