FAQs
Every quest starts with questions. Below are some of the more frequently asked questions about coaching and Western Seminary's Level 2 ICF Accredited Coach Training Program. If you have a question not addressed here, don't hesitate to This email address is being protected from spambots. You need JavaScript enabled to view it..
FAQs ABOUT COACHING
How is coaching different from other helping relationships such as counseling and mentoring?
Coaching shares some similarities with other helping relationships such as counseling and mentoring. Coaching is not a replacement for these other ways of helping. Coaching is distinct. At the core, coaching differs in that coaches ask questions in order to draw out the expertise of the person being coached rather than deliver their own expertise through telling. Some other distinctions can be seen in this chart: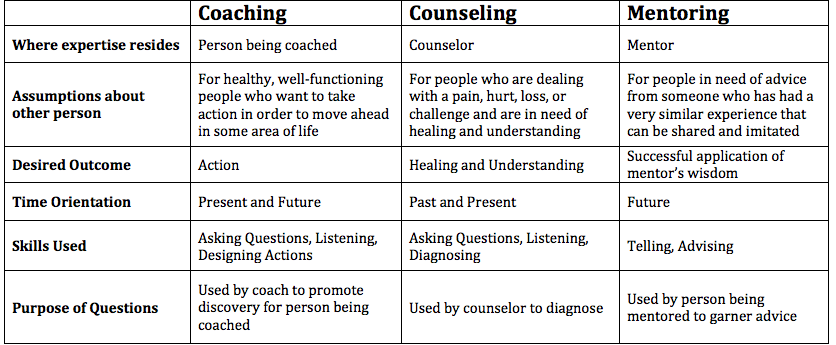 What's the difference between Life Coaching and Business/Executive Coaching?
The difference mostly has to do with the presenting focus of the coaching relationship: life coaching tends to deal with personal issues such as health, faith, relationships, and personal growth, while business and executive coaching tends to focus on career and professional aspects of the client's life. That said, they are not entirely distinct.  The mindset, skill set, tools and resources used by the coach are largely the same, and there is much overlap and integration between one's person and profession.
How are Christians using coaching?
Coaching has found its way into the church and beyond and is helping vocational ministers, volunteers, and Christians in the marketplace. Ministry leaders are using coaching for leadership, discipleship, and evangelistic purposes. Coaching is a conversational and people-helping skill that helps leaders empower others, help them find clarity, and help them move forward. 
How much training do I need before I can start coaching?
You will start coaching on the first day of training and be equipped to coach at a novice level after taking Intro to Coaching. With each class taken, you will move closer to mastery and be more confident and capable as a coach. Most students complete their Advanced courses before offering coaching services to paying clients.
Can I make a living as a coach?
To be a financially successful coach takes more than training and competence as a coach. Successful coaches need to be skilled and committed to developing their practice and attracting clients. Many of our coaching students earn a living through coaching, and far more of them choose to incorporate coaching into their current professional role.
I've heard that coaching is kind of new age, is this true?
Not at Western Seminary. Coaching is a neutral mindset and skill set that can be practiced by anyone from any (or no) faith or philosophical system. Some coach training schools present coaching in rather new age ways, saying that all the answers are within the client. At Western Seminary, we help you recognize coaching for what it is (and what it is not) and to test everything against scripture and the person and work of Christ.
What kind of license or credential do I need in order to practice coaching?
Even though there are no current legal requirements for practicing coaching in the United States, the trend is moving toward requiring accredited training and credentialing. Currently, anyone can call himself or herself a coach — even without training.  While this is permissible, it's not necessarily wise or ethical. More common is for a coach to be trained and earn a certificate from an International Coaching Federation accredited coach training school such as Western Seminary. Then, many go on to earn a credential from the ICF. This process would be similar to one who wants to be a licensed counselor graduating an accredited degree program, but still needing to earn their credential/license from their state's board. We believe that coaches should strive to practice coaching with excellence and that certification and credentialing processes contribute to excellence.
What is the ICF and should I just go to them for training?
The International Coaching Federation (ICF) is a professional membership organization, that offers competency standards and ethical guidelines for the coaching profession. The ICF is the international standard for professional coaching but it does not offer training. They maintain credibility as a credentialing agency by not offering training. All of Western Seminary's coach training courses meet ICF standards and are considered Approved Coach Specific Training Hours (ACSTH). Our full program is a Level 2 Accredited Coach Training Program (Level 2 ACTP) with ICF and aligns with their competencies and code of ethics in order to ensure that you are getting the best coach training available.
How does ICF Credentialing work?
The International Coaching Federation currently credentials coaches at three levels: ACC, PCC, and MCC (Associate, Professional, and Master Certified Coach). For an in-depth look at the credentialing process and requirements, please refer to ICF's website.
FAQs ABOUT OUR PROGRAM
How is the training conducted?
Our classes are conducted live online via Zoom. Classes are taught in various formats to accomodate the widest variety of students globally. One format is a two-day intensive. Typically, these are a Friday and Saturday or two consecutive Saturdays. Another format is two hours each week over the course of six weeks. Our Group Mentor class meets weekly over the duration of the course. The Advanced Supervision and Advanced Competencies courses meet for six sessions online by arrangement with the instructor. See our Training Schedule page.
What are the costs for the training?
Our Level 2 ICF Accredited Coach Training Program consisting of 9 courses at $700/course. The Advanced Certificate in Transformational Coaching (ACTC) total cost is $6300 (textbooks are not included). The program is pay as you go. We allow those who do not want to pursue coaching as their primary business to take as few or as many courses as they choose. Those who are pursuing coaching as a career, will finish the entire accredited program and pursue credentialing with the ICF. See more here.
Individual course prices and program costs are subject to increase.
Do I have to be a coach or want to be a coach to take your training?
No. Many of our courses are taken by persons looking for personal growth and development; they find these courses increase effectiveness and creativity in all areas of their life. Others take our courses to increase their effectiveness and performance in a role such as pastor, manager, director, counselor, teacher, parent or salesperson.
Who are the instructors?
Our faculty are some of the best and most respected coaches and coach trainers in the country. List of Current Faculty
How large are the classes?
We limit class size to 24 students, but most classes are much smaller. The typical class has between 6 and 16 students, which allows for plenty of participation, interaction, and relational learning.
Does the training count for credentialing with the International Coaching Federation?
Yes. All courses in the coaching program are ICF approved coach-specific training hours (ACSTH). The Advanced Certificate in Transfromational Coaching is an approved LEVEl 2 Accredited Coach Training Program (Level 2 ACTP). Any coach training you receive from Western Seminary can be applied toward an ICF credential (ACC, PCC, or MCC). Graduates of the Advanced CTC use the Level 2 or ACTP application pathway.
How long has Western Seminary had a Coach Training Program?
Western Seminary established the accredited coach traing program in Spring 2005. We are the first Seminary to offer an accredited coach training program. Linda Miller and Jane Creswell designed most of the curriculum and were some of the first to receive the Master Certified Coach (MCC) credential from the International Coaching Federation. 
Western is a seminary, so is the coach training only for ministers?
No. We offer a professional training program designed to help students coach in a broad array of areas and our training is taught from a Christian perspective. Along with that, none of the classes feel like Bible studies or theological deep-dives. Instructors reference scripture in a way that integrates faith with the coaching practice. Our training is highly appropriate for those serving in marketplace and other non-ministry settings. In fact, many secular employers choose to pay for the training as continuing education for employees. Our training is developed by coach trainers who have developed and deliver coach training for iNTERNAL iMPACT, Ken Blanchard Companies, Purdue University, Asurian, IBM and other respected non-ministry organizations.
Can I earn a degree in coaching?
We do not offer a Master's in Coaching, per se.  Such a degree does not exist to our knowledge. For students who wish to earn a graduate degree and focus their studies on coaching, we offer a coaching track within the Master's in Ministry and Leadership and Master's of Divinity. Also, students can apply coaching classes as electives toward a Graduate Studies Certificate (GSC) or Graduate Studies Diploma (GSD). All application of coaching courses is done throught the advanced standing process (advanced standing fees are waived for coaching courses).
How do I add coaching classes to my degree program?
Students who are enrolled in a graduate degree program may take the classes and transfer them to their degree through the advanced standing process (advanced standing fees are waived for coaching courses). Regardless of whether you take them for the certificate program or to transfer to your graduate degree, you will receive the same training and earn the same number of ICF-approved coach training hours.
All students can apply their training toward ICF credentialing.
How do I register?