Graduation Homepage
Graduating? Time to Get Excited!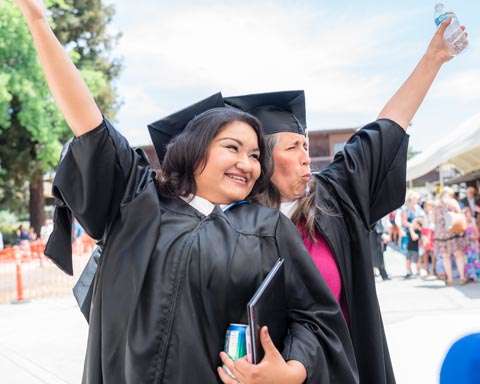 So you're ready to graduate? First of all... Congratulations! We hope you take some time to reflect on how hard you've worked to reach this moment in your academic career. Life happens between your first semester and your last. You've experienced joys and sorrows alike during your time as a Western Seminary student. You've made sacrifices of time, money, and energy. Likewise, your loved ones have also sacrificed with you along this journey.
Some of you have blasted through your program, and others feel as though you're crawling over the finish line. No matter what pace you went, you should be very proud of all of your hard work and everything it took to get to this point!  We trust that you have been transformed by the gospel and are fully equipped to go out and do the good works God has prepared in advance for you to do.
Here you'll find all of the information you need to know in order to be prepared for the graduation weekend.
Livestream
Mark Your Calendar!
2024 Commencement Reception

Day:
Friday, April 19, 2024                                                                                                                                                            
Time:
TBD
Location:

TBD

Details:

Details for the 2024 Commencement Reception will be shared as the event gets closer.
2024 Commencement Ceremony

Day: 
Saturday, April 20, 2024
Time: 
TBD
Location: 
Rolling Hills Community Church
3550 SW Borland Rd, Tualatin, OR 97062
Details: 

All graduates will be required to arrive at Rolling Hills Community Church early for rehearsal and pre-ceremony preparations.

Graduates are encouraged to bookmark this page and check for updates. Graduates may also reach out to This email address is being protected from spambots. You need JavaScript enabled to view it. with further questions.