Portland + Global Graduation: Getting Started
Graduates will receive all graduation-related information electronically. No meetings are required. Please take the time to read the graduation information located on the website, as well as each of the "Everything You Need to Know About..." sections listed further down this page.

Step One
Fill out your application to graduate in S.I.S.. 
Once you submit your application, the Registrar's Office will add your name to the list of graduates. You will then be included on all graduation-related emails and have your regalia and diploma ordered.
A preliminary graduation audit will be compiled to ensure that you've completed (or will complete) all of the requirements for your program. 
The Faculty and Board of Directors will then review all graduate names before issuing a diploma.
Everything You Need to Know About Graduation:
Participating in Commencement Weekend and Absentia
Participating in Commencement Weekend is strongly encouraged for all degree programs, except for Graduate Studies Certificate (GSC) graduates who are not able to participate. Graduate Studies Diploma (GSD) graduates can participate.
If you wish to graduate "in absentia" (not attend commencement), you should have indicated that in your application to graduate. 
We hope that you'll look forward to commencement as a way to celebrate and commemorate all of the hard work you've done to complete your program. 
The Graduation Reception, while not mandatory, is highly encouraged. It is a special, joyful evening hosted at the Western Seminary - Portland campus.. This event is an opportunity to celebrate and reflect on your accomplishment with your classmates, family, and greatest supporters.
Graduation Reception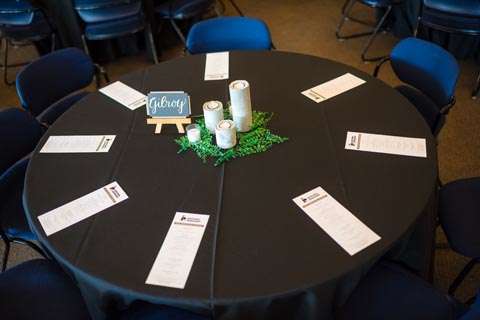 When:

Friday, April 19, 2024

Time:

4:00 - 6:00 p.m.

Location:

Western Seminary - Portland Campus

5511 SE Hawthorne Blvd.

Portland, OR 97215

Note:

All graduates are invited to bring their families to celebrate!
What Should I Wear?
Dress code: Dressy Casual
What will we do at the Graduation Reception?
Enjoy appetizers
Connect with fellow graduates and faculty
Hear from President, Dr. Chuck Conniry
Hear from student speakers
Enjoy singing and music
Celebrate!
Commencement: The Big Event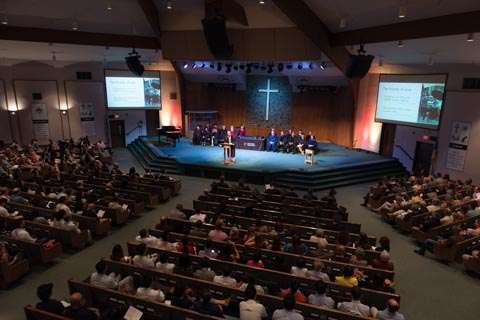 When:

Saturday, April 20, 2024


Time:

Graduates arrive at 8:30 AM; Ceremony begins at 11 AM

Location:

Rolling Hills Community Church

3550 SW Borland Road

Tualatin, OR 97062

Note:

No tickets are needed to attend commencement. There is no limit to friends and family who would like to attend. 
Graduates must arrive by 8:30 AM for rehearsal.
What Time Do I Need to be There?
All graduates need to be ready and dressed, at the venue, by 8:30 AM. Upon arrival at the venue, please follow the signs to head directly to the graduate-ready room. Your regalia should be on, cap secured, and ready to go.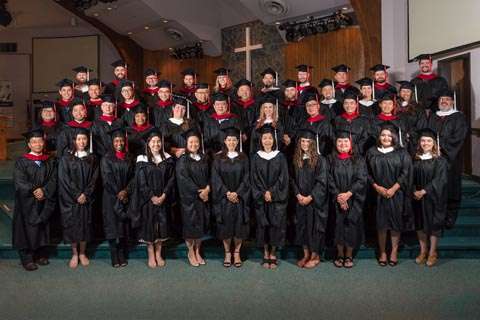 Rehearsal
We will be running through commencement rehearsal, as well as taking your graduating class photos. During rehearsal, we will line you up in the correct order, show you where to sit, how to enter the stage; practice hooding, diploma receiving, and more. Family and friends are not allowed in the rehearsal; please plan accordingly.
After rehearsal, you will have just a little "downtime" in order to use the restroom, freshen up, adjust your regalia, take pictures with peers, and grab a light snack. Please stay near the graduate-ready room, and do not wander. We don't want you to miss the queue to line up!
Where Do I Put My Stuff? Will It Be Safe?
We encourage you to keep your personal items with your family and friends, as much as possible. However, we will have a staff member guarding the graduate-ready room during the ceremony.  Please do not leave it unattended at your seat in the Worship Center.
Guest Invitation
The Worship Center is quite spacious and we are confident that it will accommodate all your guests.
There is a cry room available should it be needed for the little ones.
There are NO PHYSICAL TICKETS needed to attend the commencement ceremony.  
We know that reserving groups of seats can be tempting, but please be respectful of other guests who have shown up on time in order to get the seat they want. They're here to see their loved ones graduate too.
Gospel Highlight
Gospel-centered transformation is what Western Seminary is all about. Through our ceremony, we ensure that the gospel will be highlighted so those unbelieving friends and family have the opportunity to experience that transformation in their lives. 
Immediately Following the Ceremony
Please exit the Worship Center and plan on meeting your friends and family in the lobby for pictures and hugs, so as to thin out the crowd. Remember to retrieve your personal belongings. 
Commencement: Regalia
Ordering and Distribution
On your graduation application, you'll notice we requested your height and weight information. Using this information, we will order your regalia in advance. Regalia will be mailed to the address you have listed in S.I.S. 
Once you receive the regalia, you are encouraged to try it on to make sure there are no defects, and it fits properly.

What's Included in My Regalia Package?
Gown
Hood specific to your field of study
Cap appropriate to your degree
Year dated tassel specific to your field of study
How Do I Care for My Regalia?
Please plan to hang up and steam your gown prior to coming to commencement. Avoid ironing the regalia--particularly the velvet portion of the hood. Do not wear your regalia in the car on the way over to rehearsal, but rather hang it up on a hanger, and plan on putting it on during rehearsal.
The regalia we purchase uses fabric from a renewable managed forest. This fabric is scientifically proven to completely biodegrade and is a USDA certified biobased product.
I Already Have Regalia; Can I Just Wear That?
No. The Master's level regalia is different than anything you may have already.
Do I Get to Keep My Regalia after Commencement?
Yes! All of this is yours to keep.
Can I Decorate My Cap?
Due to the fact commencement is a commissioning of students as much as it is a celebration, please leave gowns and caps in their original condition without any extra adornment.
Other Purchase Options from Jostens
There are other items available for purchase through Josten's: Custom Western Seminary diploma frames, announcements, jewelry, and more.  If ordering a diploma frame, the document size 8" x 10". To view and order these items, click below to visit the Josten's site, and search for Western Seminary.
JOSTEN'S WEBSITE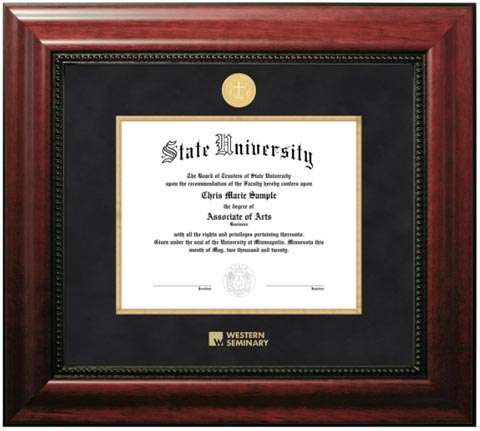 This is one example of a diploma frame option. You may choose different options and personalize yours as desired.
After Commencement: Diploma & Transcript
Diplomas
Diplomas will be mailed from Josten's to all fall, spring, and summer graduates. They can take up to 
8 weeks
 from the end of the semester for you to receive. It takes 4-6 weeks for the Registrar's Office to confer your degree and submit diploma orders through Jostens. Diplomas are expected to mail out 2-3 weeks after degree conferral.
To expedite processing, please make sure the following conditions have been met:
All of your final grades have been submitted by faculty, and your degree has been certified.
Your account balance has been cleared to $0 with the Business Office.
You have completed the Financial Aid Exit Interview, if you've received federal loans.
Your mailing address listed in S.I.S. is current.
Once your degree has been conferred by the Registrar's office, you will receive an email informing you of such, and asking you to verify that your mailing address is correct. Be on the lookout for this important email.
Using Your Legal Name
Like your transcript, your diploma will be an official document. Therefore, we will be using your full, legal name. If you legally change your name before you graduate, you must submit a Name Change Form prior to the last day of the semester in which your degree will be certified.
---
Transcripts
Once the aforementioned e-mail has been received from our Registrar, you are welcome to order your official transcript. DO NOT order your transcript until you have received the degree conferral confirmation email from the Registrar's office. If you order it too early, you may need to reorder your transcript once your degree has been posted officially. Save yourself time and money by being patient. It can take 4-6 weeks for your degree to be conferred.
Counseling students: We know that you are needing your transcripts ASAP to apply for your Associate number and thank you for your patience.
Where Do I Order My Transcript?
In your S.I.S. account under the Student Records tab, then click Transcripts on Demand.
Cost
Official electronic transcripts (highly recommended) are $5.00 each. Print transcripts are $5.00 each, plus the cost of shipping chosen at the time of order. If you request your transcript to be rush processed, it will be an additional $15.00 per recipient.
ORDERING TRANSCRIPT INFORMATION
Odds & Ends
Honors
Many graduates are curious about whether or not they'll be graduating with honors. Honors are determined by your final grade point average (GPA). Your honors status will be noted in the program. 
For fall graduates, this will be from your final term GPA. For spring graduates, GPA will be contingent on when spring grades are posted. For summer grads, this will be noted from your final spring semester GPA. 
| Rank | Final GPA |
| --- | --- |
| +Honors | 3.60 - 3.74 |
| ++High Honors | 3.75 - 3.89 |
| +++Highest Honors | 3.90 - 4.0 |
Photography
Commencement will be professionally photographed. A photo of you being hooded and shaking hands with President Chuck Conniry as you receive your diploma will be taken.
All photos will be made available to you for free to download. Student Services will upload the link to access the photos in the Graduation section of Western Seminary's website within the month following commencement.
Alumni Relations: Your Transition from Student to Graduate
Job Searching
Looking for a job after graduation? Check out Western's placement page to browse job listings near and far. Also, our Portland-based Director of Student Development, Andy Peloquin, would love to set up a meeting with you to talk.
Free Alumni Audit 
As a Western graduate, you can audit one class, at any of Western's physical campus location, for free per academic year. Now you can take all of those electives you never had the time to do--homework-free! Keep your mind sharpened and be a lifetime learner. Submit the form below to the This email address is being protected from spambots. You need JavaScript enabled to view it. department, and register for your selected class through your S.I.S. account.
Give
Trustworthy. Accessible. How has the gospel affected your life? What possibilities are waiting for someone to come along and make realities? See the ways that you can partner with Western Seminary to bring trustworthy, biblical training to a world in need.
Again, Congratulations!
You are now equipped with everything you need to know about the graduation weekend. 
Should you have questions, please review the Graduation Orientation one more time, and if you don't find the answer to your question, please contact This email address is being protected from spambots. You need JavaScript enabled to view it..