Portland + Global Graduation Home
Livestream - April 23, 11 a.m.
Graduating? Time to Get Excited!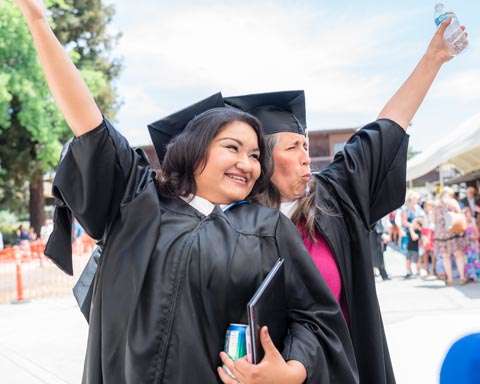 So you're ready to graduate? First of all... Congratulations! We hope you take some time to reflect on how hard you've worked to reach this moment in your academic career. Life happens between your first semester and your last. You've experienced joys and sorrows alike during your time as a Western Seminary student. You've made sacrifices of time, money, and energy. Likewise, your loved ones have also sacrificed with you along this journey.
Some of you have blasted through your program, and others feel as though you're crawling over the finish line. No matter what pace you went, you should be very proud of all of your hard work and everything it took to get to this point!  We trust that you have been transformed by the gospel and are fully equipped to go out and do the good works God has prepared in advance for you to do.
Here you'll find all of the information you need to know in order to be prepared for the graduation weekend.
Mark Your Calendar!
2022 Graduation Reception

Day:
Friday, April 22, 2022                                                                                                                                                             
Time:
4:00 - 6:00 pm
Location:

Western Seminary - Portland

5511 SE Hawthorne Blvd, Portland, OR 97215

Details: 

For those travelling to Portland, OR for the Portland and Global Commencement Ceremony, we invite you to a reception on the Portland Campus. This will be a time to connect with fellow graduates, show loved ones around campus, and enjoy time with the greater Western community. 

This will be an open reception style event including light refreshments and beverages. 

If you are a graduate and plan on attending the Graduation Reception, please complete the RSVP form sent to your Western Seminary email along with other details for Commencement Weekend. 
2022 Commencement Ceremony

Day: 
Saturday, April 23, 2022
Time: 
11:00 a.m.; Doors open for guests by 10:30 a.m
Location: 
Rolling Hills Community Church
3550 SW Borland Rd, Tualatin, OR 97062
Details: 

All graduates will be required to arrive at Rolling Hills Community Church by 8:30 a.m. for rehearsal and pre-ceremony preparations.

We are planning for an in-person ceremony with no maximum limit to guests. Please keep in mind that circumstances in light of the Covid-19 pandemic remain fluid. We ask for your flexibility and understanding in case we need to make changes and adjustments as necessary.

Graduates are encouraged to bookmark this page and check for updates. Graduates may also reach out to This email address is being protected from spambots. You need JavaScript enabled to view it. with further questions.