Graduation Information and Checklist for San Jose Grads
Important Dates
Grad Dinner

Date & Time:

Friday, July 13, 2018 from 5:30 to 8:30 pm

Location:

Notes:

Each graduate may bring one guest
Rehearsal

Date & Time:

Saturday, July 14, 2018 at 8:30 am

Location:

Notes:

Attendance is mandatory
Commencement

Date & Time:

Saturday, July 14, 2018 from 11:00am to 12:15am

Location:

Notes:

Doors open for guests at 10:00am
Reception

Date & Time:

Saturday, July 14, 2018 from 12:15am to 12:45pm

Location:

Notes:

Light snacks served
Requirements
General Graduation Requirements
Students may complete their programs of study and be certified for degree completion during any semester of the year. There are guidelines, however, which must be carefully followed. Failure to follow the established procedures will postpone graduation by one semester or longer.
Give evidence of orthodox belief, genuine Christian character, and conduct consistent with a God-given call to a position of leadership.
Demonstrate an ability to use the English language with precision in both speech and writing.
Complete the prescribed course of study within the time limitation and achieve the required grade point average as outlined in the catalog.
Remove any admission provisions.
Complete at least the minimum residential credit hours for your degree program.
Settle all financial obligations, including payment of the graduation fee. Students who have not made satisfactory financial arrangements will not have access to any student services, including transcript, diploma, or enrollment for a second degree.
Receive the recommendation of the Faculty and approval by the Board of Trustees for graduation.
File all graduation information with the Registrar's Office no later than the first day of the last semester of enrollment, or end of the academic year in which the student plans to graduate (whichever comes first).
Attend the annual commencement exercises. An Academic Petition must be filed at least six weeks prior to commencement to request permission to graduate in absentia. Such permission is normally granted only when it would cause serious hardship for the student to attend.
Additional Graduation Requirements
Additional graduation requirements for specific degrees are listed in the degree sections of the catalog and in the program handbooks.
Requirement Due Dates
All graduation requirements must be completed by the last day of the semester in order to graduate that semester. Some requirements are due well prior to the end of the semester. If a student completes a graduation requirement (e.g. turns in an assignment) after these dates, he or she will graduate at the end of the following semester (i.e., the official degree date on the diploma and transcript will be the last day of the following semester).
Fees
Students are accountable for library fees and graduation fees.
| | |
| --- | --- |
| Masters | $200 |
| Dual Degree in Same Academic Year | $200 plus additional $40 |
| Certificate/Diploma/Partners in Ministry (spouses) | $40 |
Note: GSD students who opt to participate in commencement will be charged a $200 grad fee. GSC students do not participate in commencement.
Graduation fees are not reduced or waived for masters or diploma of divinity students who successfully petition to graduate in absentia. A processing fee of $20 may be assessed if a student changes his/her declared graduation date and expenses are incurred (i.e. a new diploma is needed).
Regalia and Diplomas
We will provide all regalia you will need for commencement; there is no extra regalia fee in addition to the graduate application fee (see above).
Caps, Gowns, and Tassels
We will order your cap and gown using the height and weight that you provide on your Application to Graduate. In order to minimize graduation costs for you, we order a nice quality, but not the finest available.
You will need to pick up your regalia from the office about a month prior to commencement. Please iron your gown and bring all regalia with you to the rehearsal. We will provide your tassel at the ceremony rehearsal. Your cap, gown and hood will be yours to keep. The regalia is from an ecofriendly line of gowns and is reusable. While it is not considered "fine regalia" it is very nice and may be appropriate to reuse if you are working in education or preach in a formal setting.
Hoods
Regalia is very expensive and we do our best to keep costs down. However, you may also choose to purchase your own fine quality gown and hood to use for the future. (We ask you use the one provided to help us keep a consistent look for commencement.) Please contact Student Services if you would like to purchase any regalia other than that which will already be provided.
Your hood will be black with gold and blue satin lining (Western's "official" school colors),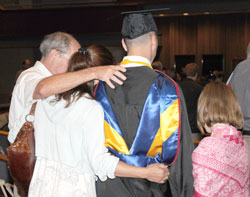 with either:
Red velvet band for Divinity degrees (MABTS, MAML, M.Div.)
White velvet band for MA in Marital and Family Therapy
Receiving Your Diploma
It usually takes the Registrar's Office 6-9 weeks to confirm and ship diplomas post graduation. If you graduate in Fall or Spring semester, we will do our best to have your diploma during the Commencement Ceremony, otherwise it will be mailed. Summer graduates will receive their diplomas through the mail after commencement, provided the conditions below have been met. All graduates must meet the following conditions:
All of your final grades have been submitted by faculty and your degree has been certified.
Your account balance has been cleared with the Finance Office.
You have completed the Financial Aid Exit Interview if you've received federal loans.
Honors
Many graduates are curious about whether or not they'll be graduating with honors. Honors are determined by your final grade point average (GPA).
| Rank | Final GPA |
| --- | --- |
| Honors | 3.60 - 3.74 |
| High Honors | 3.75 - 3.89 |
| Highest Honors | 3.90 - 4.0 |
Using Your Legal Name
Like your transcript, your diploma will be an official document. Therefore, we will be using your full, legal name. If you legally change your name before you graduate, you must submit a Name Change Form prior to the last week of the semester in which your degree will be certified.
Photography and other odds and ends
Individual Photographs
During the ceremony, the photographer will take a picture of you shaking hands with our president Randy Roberts as well as a posed picture prior to the ceremony.
Group Photographs
The photographer will also take a group picture of all the graduates. You will receive a link of all photos including Friday night's event.
Attire
Since your will be photographed several times during the Graduation Dinner and throughout Commencement, you should wear nice attire.
Location
The commencement ceremony location will be held at Christ Community Church on Saturday morning at 11:00am.
Seating
There is no limit on guest seating. Please remind guest to arrive no earier than 10:00am. If guests arrive earlier, they will be encouraged to visit Community Coffee on site at CCCM until the doors open. If you are anticipating a significantly large number of guests, please let us know in advance so that we may work to accomodate you.
Attire
Guests often wonder what attire is appropriate for the commencement ceremony. Most people wear either nice pants or skirts/dresses. It's a dressy occasion, but not formal.
Children
We encourage guests not to bring children under five, or older children who might have difficulty sitting quietly for the entire ceremony (approximately 60 minutes). Mothers of nursing infants are invited to bring their babies, but they're encouraged to sit in the back of the room or in the lobby, which will have the event live streamed.
Cell Phones
Please turn off cell phones, and please remind your guests to do the same so as not to disturb others during the ceremony.
Light Refreshments
We will be having a light hors d'oeuvres reception following the commencement ceremony in the Church Lobby and Event Room until 1pm. Enjoy visiting and taking pictures with family, friends and faculty.
Checklist
We know this is a plethora of information. To make it as easy as possible, please follow the following checklist to make sure you do everything you need to as you prepare to celebrate what you have done and what God has done and will continue to do through you!
Checklist for Grads

Fall Grads
Spring Grads
Summer Grads
Graduation Application

Aug. 14
Nov. 15
Nov. 15

Invite Family and Friends to Graduation Weekend

Now
Now
Now

Submit Photo, Future Plans (<50 words), Words of Thanks (<75 words)

Jun. 2
Jun. 2
Jun. 2

Pay Fees on SIS Account

Dec. 1
Apr. 1
Jul. 1
(Optional) Purchase Announcements, Diploma Frames, Rings, etc.
Apr. 15
Apr. 15
Apr.15

(Optional) Purchase Regalia

(Cap, Gown, and/or Hood)

May 1

May 1

May 1
Please be sure to mark your schedule for the events at the top of this page.
Commencement Day Timeline
| Activity | Time |
| --- | --- |
| Graduates arrive. Please bring your cap, gown (ironed), and tassel to the rehearsal. We will provide you with the hood that morning. | 8:30 am |
| Doors open for guests to enter the Lobby and Worship Center. | 10:00 am |
| Commencement ceremony begins. | 11:00 am |
| Commencement ceremony ends. | 12:15 am |
| Reception with light refreshments offered in church lobby. | After ceremony |
| Reception ends. | 12:45 pm |
Important: Everyone who walks in the commencement ceremony must attend the rehearsal at 8:30 am. Please plan accordingly. Guests may wait in the lobby, and will not be permitted to enter the worship center until 10:00 am.